There is nothing better than cuddling with your kids or your lover in front of a good old campfire. The cool breeze brushing against your cheeks, the panoramic mountain scenery, heating s 'mores on skewers, drinking hot cocoa out of flasks, spending time with each other under stars and what not as you sit around the campfire. But it won't hurt to keep a check on the safety protocol every once in a while. Not just for your own safety but also for the environment.
Leave No Trace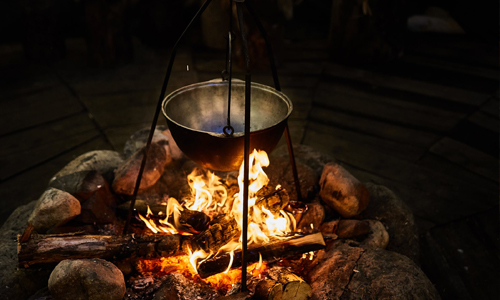 Whenever you go on a camping trip or on a hike, don't just randomly start a campfire. Ask yourself it is really something you need or can't make do without. I agree snuggling in front of the campfire is fun but every once in a while, we got to think about the environment as well, right? Also, before making a decision, it is safe to research about the local restriction regarding lighting a campfire. If you do, then cleaning up after yourselves is essential, leave no ashes there.
Prefer Duff over Wood
When lighting a fire, don't just randomly start chopping firewood, its harmful for the environment as we know. Instead look for duff. It is a bit different than dirt, can be found under the layers of pine and dust in the forests. Plus, it burns better than wood.
Don't Leave the fire Unattended
If you are on a hike alone, then it is a definite no-no to leaving the fire unattended. However, if you have company then its fine. But take full responsibility of your fire.
Make Use of Old Campfire Rings
If you go camping in a popular spot, there is always a chance that there might be camp-rings used frequently, so try to avoid lighting another kindling. We won't want the ground to be all covered in ashes, now, do we?
Be Water- Ready
If there is fire, there needs to be water nearby, in case things start getting out of hands.
Let the Fire Die Completely
When you light up a campfire, it is only fair that you make sure to drown it before you go back to your tent. Remember not to let the fire die on its own, because, a) it takes a lot of time, and b) it is not safe, the proba
bility of some grass or leaf catching a spark is pretty much more than zero. Let the ground cool down completely before leaving the site of the campfire ring, it is for your own safety.
In the end, it's only fair to say that it is always good to do a final check before leaving. Moving on during an adventure is what is to be done but cleaning up after yourselves is solely your responsibility. Hope these safety tips make your camping trips safer and fun in the future.