Prepare Yourself with This Inch-Perfect Workout Plan To Make Your Body Mountain-Ready
So, you're finally prepared for your most awaited hike and geared-up to live a new experience. Where have you planned to go hiking? Is it the great South West Coast Path, Scafell Pike, West Highland Way, or the Yorkshire Three Peaks Challenge? Well, whatever the choice you've made, you're going to live the best moments of your life.
But hey! Wait a minute. There's a question: whether or not you have prepared for the hike? Oh! We am not talking about the essentials. Of course, they are necessary but did you work on your strength and body as well?
One of the major issues beginners or newcomers to this activity faces is that they hit the mountains with an unfit body. Make sure you train your body accurately to enjoy the journey even better.
You wish for a perfect workout plan and here we come with the same. Here are the ways you can prepare yourself for those mighty mountains.
What If you don't Live near the Mountains?
You can still work on your body. First, figure out how many days or weeks you're left with until your upcoming trip. Then, check for how many hours a day you can allow your body to move out and train. And once you have these goals set in your mind, sorting out things would be easy to get moving.
Ways You Can Follow While Training:
Walk, Walk, and Walk: Ensure you're walking at least 3-5 times every week and with every new day, you're varying the speed and distances. Every week's plan should include 1 long-distance walk. After one or two weeks, you can start carrying your backpack to get used to carrying the weight and then, by every new week, put more weight into it.
Stairs Are The Best: Not just a helpful trick in strengthening your quads but also to build cardiovascular endurance, this exercise will help you walk throughout the hike with ease.
Core is Important: Hikers somehow neglect this important way to build up their body. Carrying a heavy backpack throughout the journey NEEDS some good core strength.
Gym Routine: If you're a gym goer, you might need to make some specific changes in your routine. Set the treadmill of incline setting or stair climber. You can also work with the equipment helpful in building leg strength.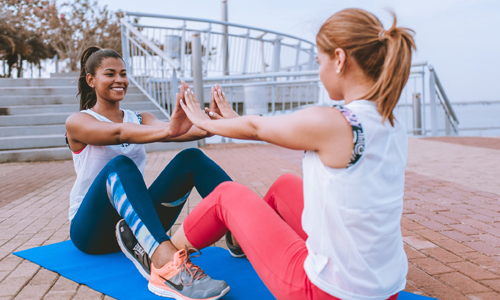 Specific Exercises for Strength Training
Here are some exercise circuits that should be followed to bring out the most. Strong legs, core, and upper body are paramount, thus need a bit more attention before you start with your upcoming hike. Remember to make a plan according to your routine.
For The Legs Routine:
Ensure you're following the circuit 2-4 times.
10 glute bridges
30 squats
20 steps up (10 each side)
20 reverse lunges (10 each side)
10 side lunges (5 each side)
For The Core Strength:
Ensure you're following the circuit 2-4 times.
15 supermans
20 bird dogs (10 each side)
15 side planks with hip dips (each side)
15 overhead reaches (Deadbug can be practised if more advanced)
For The Upper Body Strength:
Ensure you're following the circuit 2-4 times.
15 push-ups
10 pike push-ups
10 cat cows
10 wall angles
15 shoulder retractions
30-second plank
Important Note: After all these sessions, don't forget to stretch your hamstrings, arms, glutes, back, and quads.
This is done because muscle tightening can cause injuries, imbalances, or some severe pain. Also, don't forget to take a full day off from the sessions, as this will help your body regenerate and refresh.
Training with a Backpack
If you're planning a backpacking trip, here comes an additional session that should not be missed, which includes strengthening of posterior chair, shoulder, and neck. Indulging in exercises for these body parts will eliminate the risk of pains and aches while hiking with a heavy backpack. So, what you need to do is carry a heavy backpack during every week's training. You can always increase the weight with every coming week to ensure your body is ready with a strong core and endurance.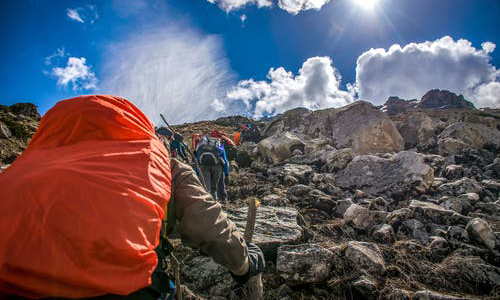 Final Words
Hiking indeed allows you to live the most memorable and life-changing experiences, but walking with a weak back and wobbly legs can ruin your journey. Exercise hard, build great strength, and ensure you're ready for those majestic climbs.