My hometown is just a few miles away from a lush mountain valley and so I have been a fan of camping since childhood. Every summer break, I used to tag along with my elder brother for a new camping expedition. Such camping routines taught me a lot about camping out and its virtue. It is a great outdoor activity to break from the monotonous hustle bustle of life and to rejuvenate your spirit. To double the fun of your camping trip it is advisable to go through the golden rules of camping and know the different types so you can choose the kind that seems fun for you.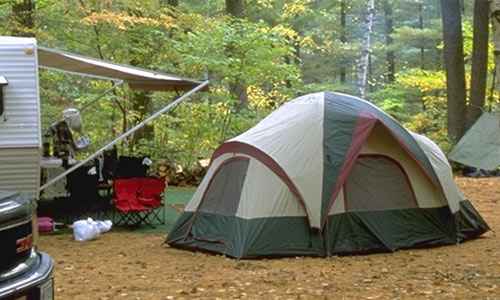 Different Camping Styles
The term camping may not always mean the same thing to any one person. Some people think of an RV, others a tent, others a backpack and a sleeping bag under the stars. Here are a few camping styles you might want to know before setting out on one.
Backcountry Camping
If you are an avid adventurer then backcountry camping is just your type. This is also the type of camping I have been to the most. This camping is when you go for a hike or trek into the backcountry mountains or the forest and spend a night in the wilderness. You carry all your camping gear, food, water and safety gear in your backpack while backcountry camping. But it is very important to know that backcountry camping is not for everyone. You must know the wilderness and should be aware of the route you have to take before choosing the camping site. You might lose your way if you take the vague path and getting lost in the woods might sound enthralling, but trust me, it is the worst danger you can put yourself into. So let the adventurer in you explore, but with all the required safety and navigation equipment.
Car or Van Camping
This is the type of camping we chose when my grandma insisted to go camping with us. By this you can guess that this sort of camping combines the pleasure of being outside and close to nature with the mobility of having a vehicle. It is ideal for people who like a little luxury when they camp and is popular with older people.
When travelling with your own vehicle, you are much more mobile and anywhere you can park becomes your campsite. You can carry your camp gear in the car, furthermore, you can protect yourself from cold in case of very harsh weather. Car or van camping can open up the whole country and you can set off on short weekend trips or embark upon extended road trips where your imagination is your only limit.
Dispersed Camping
If you want to choose mobility through the car yet camp in wilderness away from all amenities then dispersed camping is for you. Dispersed camping allows you to explore the roads less traveled, to explore places most people may never have the opportunity to see, to camp in places one can only dream of, like 10,000 feet up in a mountain pass close to an old mine and a traveling river or in the middle of a National Grassland, where when you look up, you feel as though every star in the sky is shining down on you or on the edge of a meadow with wildflowers abundant and a place to rest your hammock between two trees. But remember to check with each area you are planning to enter and it's important to stay on existing roads, whether paved or unpaved.
Now that you are prepared to set out on a camping adventure I hope you experience the best nature has to offer and stay safe. Get addicted to the smell of forest soil, the green lands, the starry skies and the fresh soothing air.