A Beautiful Walk to Thor's Cave and Manifold Valley
Hey guys! First of all, I would like to thank you all for showing so much love for my last blog post. And as I promised, yes, I went to Thor's cave and Manifold Valley. And what a mesmerizing journey it was. Thor's Cave and Manifold Valley has always been on my to-do list and finally, as I ticked that, I can say it was worth every risk. I was a bit jet-lagged from my last trip to Australia, a few days earlier, yet I couldn't wait to head to Thor's cave for which I was waiting for so long. So, I packed my bag to enjoy the Easter weekend.
If it is not for the trip, I love spring anyway. Warm sunshine, blue sky, flower blooming, and soft cooler winds, everything about this season inspires me. And on the way to Thor's cave, all I can see was the beauty of spring, so many little lambs enjoying their day in the bright sunshine while roaming around wagging their tails; it was all breath-taking and worth seeing.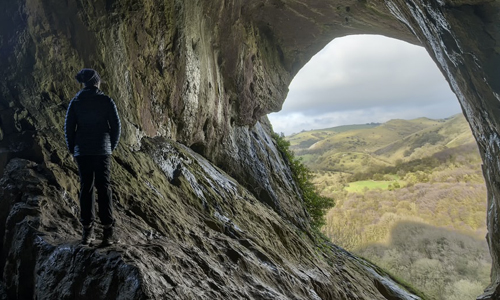 The Walk
So, the journey starts from the Wetton Mill Tea Room, owned by the National Trust. I parked my car by the Mill and started following the footpath that lead me to the beautiful fields and hillside before reaching the waymark point at the top. I then turned left and passed through a wooden gate. My next destination was an old manor house, known as Pepper Inn.
This place actually got a history. This beautiful old house was once a button factory and then turned into a hospital when the smallpox outbreak affected the workmen building the Manifold Railway. Just past the Inn, the path through the right goes to the Manifold Valley. Greenery all around with bright shining sky above, it all was mystical.
After walking a mile or so, I reached the Wetton village. It was quite recognizable because of the old stone cottages, church, and a peaceful environment. Crossing this beautiful village, I was at the road junction from where the path to Thor's Cave was clearly visible with a sign called "Concession Path to Thor's Cave". Just follow the right path up to it.
Thor's Cave
There comes Thor's Cave. A beautiful natural cavern located in the Manifold Valley of the White Peak in Staffordshire. Also known as Karst cave, it is located in the steep limestone crag with the symmetrical arch entrance that is 7.5 metres wide and 10 metres high. You can easily locate it from a distance. When I reached there, I first climbed up its top and looked for miles, and miles soaking the mystical 360-degree view of the Manifold Valley that was sparkling just right in the front of my eyes. Later, I had lunch and was all ready to explore the cave.
As far as the history is concerned, it was known that this cave was once a home of Palaeolithic hunters who watched wolves, bears, and woolly rhinoceros. In 1864, Samuel Carrington, a Wetton schoolmaster excavated the cave and found Romano-British remains consisting of pottery and bronze and iron knives which are on display in Buxton Museum. Safety Tip: Take a torch with you.
As I enter the cave, the whole vibe was impressive. The steep down slopes, giant trees, paths covered with bluebells and wild garlic, the place is a must-visit place once in a lifetime. Then, I followed the rest of the distance to find the Wetton Mill again.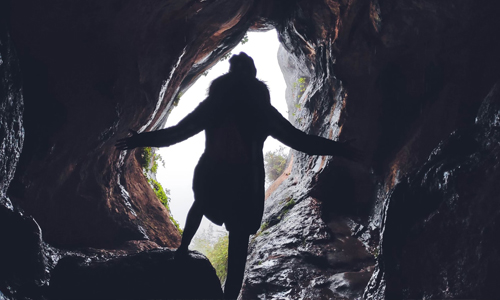 Don't Miss the Adventure
Lastly, there are a lot of things that you can do on this walk. You can go alone to find some me-time or can take your friends and family for a memorable picnic day. The views from the top are truly magical followed by the amazing excursion of exploring the cave. Please share your thoughts and story as you visit Thor's cave with me!