Moving around in the snow can be difficult if you are not wearing the right footwear. The challenge of going out and treading through snow covered land is daunting to many, which is why people stop hiking around the winter time. Without requiring any special talent, snowshoeing is a great way to break out of a monotonous and static winter routine.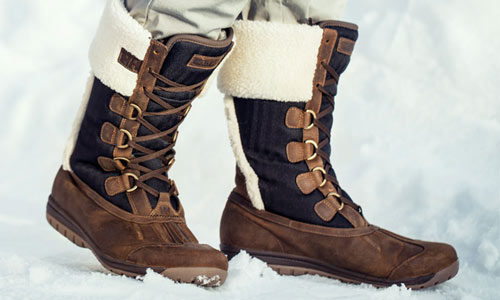 Before I started snowshoeing, I got really confused when I went to buy a pair for myself. With an array of options available, each having different features and prices; it was difficult for me to make up my mind. The final result—I came back empty handed. It all changed after a tête-à-tête with my friend Josh who is a snowshoe veteran. With his valuable advice and my own venture into snowshoeing, I have now become quite an expert in making the right selection.
Holy Grail of Snowshoeing
The task of choosing the right snowshoes becomes quite easy if you know the crux of the shoe selection procedure. I call it BDM: Biding type, Deck shape, and material used. Getting to know about these features is nothing less than discovering the holy grail of snowshoeing.
It is important to learn about the specifics of snowshoeing. External factors and physical attributes of snowshoe wearer dictate the procedure of selecting the correct snowshoes. Go through the list below for greater detail:
1. Terrain Type
I have hilly terrain close to my home; it is the area I frequent often for getting my fill of snowshoe adventure. My favourite 'Crescent Moon Shoes' are ideal for an easy walk through this tough place. 'Crescent Moon Shoes' come under the category of backcountry shoes which are made specifically for hilly terrains. With rotating bindings, larger decks and heel lifts, these prized possessions of mine turn my walk through the hill into a walk in the park.
If you frequent steep and icy terrain, I recommend that you go for snowshoes with steel crampons. For people who prefer walking on flatlands, a simple recreational snowshoe will suffice.
2. Snow Depth
Gauging snow depth is quite crucial when it comes to choosing the right snowshoes. Snowshoeing exclusively on packed snow requires smaller sized shoes. On the other hand, if you are a perennial off-trailer like me, I would suggest that you go for snowshoes with a larger surface area.
3. Size and Weight
Selection of snowshoes highly depends on the body type of the snowshoe wearer. If you are heavier than normal or if you carry a large backpack with bulky items, you should buy a larger pair of snowshoes with wider deck. As women are generally lighter than men and have a slimmer frame, they should stick to smaller bindings to accommodate narrower stances and smaller feet. For children, it's a good idea to purchase lightweight models with bindings that are not too elaborate and complex.
4. Tail shape of snowshoe
The variations in snowshoe tail shape offer different modes of operation. If side hills and technical terrain are your path of choice, you should select tapered decks with V-shaped tails. Rounded and snowshoe tails provide more flotation and stability, which is needed for a comfortable experience and works best on flatlands covered with snow. If you run more often on snow, you should invest in lightweight snowshoes with narrower tails.
5. Snowshoe Bindings
Snowshoe bindings are of two types: fixed snowshoe bindings and rotating snowshoe bindings. Fixed snowshoe binding is perfect for navigation around obstacles. They are best suited for moderate terrains, groomed trails and packed snow. Rotating snowshoe bindings are a great choice for ascents and walking through deep snow; as they mimic a more natural foot motion.