The snow-covered trees, a glass of mulled wine and the gleaming sunshine - a ski trip remains the best way to enjoy those hard-earned winter holidays. However, with that comes the daunting task of packing the right gear to stay warm and comfortable on the slopes. To help you with the same, we have put together this list, so you have all the ski-holiday essentials and make the most of the vacation.
Base Layers
With winters come the need for layering up to stay guarded against the cold inclement weather. However, with tight fitting base layers are common with breathable fabrics that locks core body warmth in. They also wick away moisture, so you stay comfortable even when the weather goes damp!
Waterproof Pants and Jacket
A waterproof ski or snowboard jacket and pants are an absolute ski essential! Investing in the right pair of fully waterproof outerwear is as important as finding the right ski gear. It will keep you covered in case the weather goes south.
Wool Socks
While it is a bad idea to layer socks, it is better to opt for a pair of thick woollen ones. They add extra cushioning while their construction with plush wool provides exceptional breath ability. A nice pair of socks will go a long way in keeping you covered through your ski adventures.
Waterproof Gloves
The last thing you want on your ski trip are cold fingers, making it important to take along some high-quality gloves or mittens. Ski gloves are waterproof and warm on the inside to ensure happy hands!
Hat
Head and ears are where you feel the most cold, making it important to pack a thin hat to nicely fit under your helmet! It will also keep you covered when you take a break from the slopes and enjoy outdoors.
Balaclava/Neck Warmer
From thin cotton to thick fleece, you can choose from the plenty of options available and invest in one that fits your needs. Neck warmers are multifunctional - they can be used to stay warm or can be extended to cover the face in case a snowstorm hits!
Goggles and Sunglasses
The former is important for your ski adventure while the latter will keep your eyes protected against the harsh mountain-y sunshine!
Helmet
A ski helmet is more of an equipment than an accessory. It not only keeps your head warm, but also protects your skull to help you make the most of your ski trip.
Skis and Ski Poles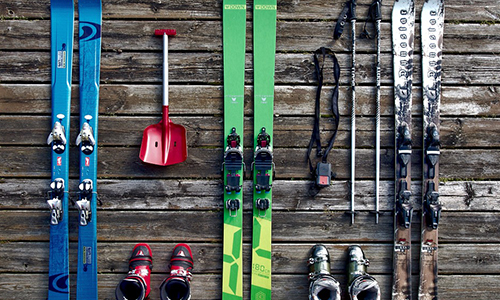 These are a several places where you can rent or buy a ski or snowboard depending upon your needs and preference. Besides that, the correctly fitted ski poles are just as important.
Toiletries
It's up above in the mountains that the sun shines the brightest and wearing sunscreen can prevent your eyes from the sun. You should also carry lip balm with SPF protection.
A Backpack
A backpack comes handy to keep all your go-to essentials such as sunscreen, Water and keys. You can also carry an extra layer in it.
Summary
The golden rule to have a fun ski holiday is clever packing and this list is ideal to help you remember everything you'll need to stay comfortable. Also, do not forget to pack your medicines and canned foods for backup.