I love winter break as it provides me an opportunity to break free from my monotonous schedule and venture out in the open. As I live in Interlaken, which is located in the Bernese Oberland region of the Swiss Alps, I have easy access to the beautiful snowy peaks. Whenever I get time, I take off to the mountains, sometimes with family and sometimes solo.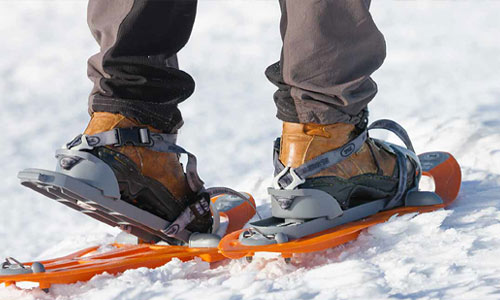 Whenever I am alone, I prefer snowshoeing over other high octane activities like skiing. I rejoice in my solitary excursion as I take my time to explore its wonderful facets. Snowshoeing is easy to learn if you have the right tips and are prepared with the correct equipment. Below are a few pointers that I would like to bring to your notice, so that you can prepare yourself and make your snowshoeing adventure pleasurable.
1. Buying the Perfect Snowshoes
The most important part of snowshoeing, just like any other adventurous activity, is buying the right gear. There is nothing more significant than procuring the correctly sized snowshoes as per your body type. Weight plays an important part in selecting a pair of snowshoes. As the weight increases, the size of the snowshoe to be worn also increases. Make sure that you refer to a weight vs. size chart before buying your pair.
2. Dressing in the Right Clothes
Snowshoeing adventures are most enjoyable if you take your time and set out for a long journey. As you will be on the snow for a prolonged time, I advise that you wear customizable outfits to counter the changing weather. Convertible jackets, which can double up as a full sleeve and sleeveless jacket, can go a long way in helping you adapt to the ever changing weather. Make sure that your clothes are waterproof and have extra protection along seams to avoid water seepage into the jacket.
3. Preparation and Trekking Poles
Make sure that you buy trekking poles for a comfortable walk on snow. These poles provide stability and support when you are treading through a tough terrain.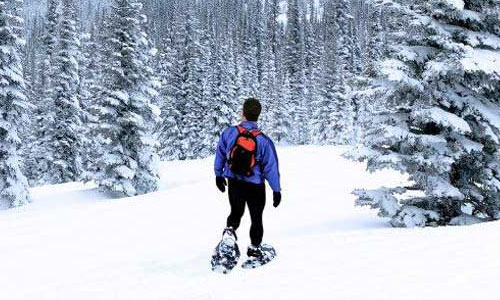 If you are new to snowshoeing, it is advised that you over prepare yourself with extra food and water supplies, as your journey may take longer than anticipated.
4. Keeping your balance on snowshoes
For maintaining your balance while snowshoeing, I recommend that you stay upright and maintain a wider than normal stance. While turning I suggest that you lift your knee high, before turning towards the direction you intend to go to. By following this technique you will make sure that you don't trip while making a turn.
If you are trying to avoid steep ascents and difficult terrains, then you can use a technique called traversing. For executing this method, you need to keep yourself on the elevated side of the hill, and plant your foot facing the uphill side on the snow and put all your weight on it. You can also shorten the adjustable poles facing the uphill side to maintain balance.
5. Going uphill and downhill
You need to follow specific techniques for snowshoeing uphill and downhill. I advise that you hire a trainer and let him guide you and prepare you for steep inclines and declines. I have always felt that taking short strides, especially when you are new to snowshoeing, really helps. Once you are well- versed with this activity, you will be able to dominate the field like a champ and explore the scenery with a new swagger.