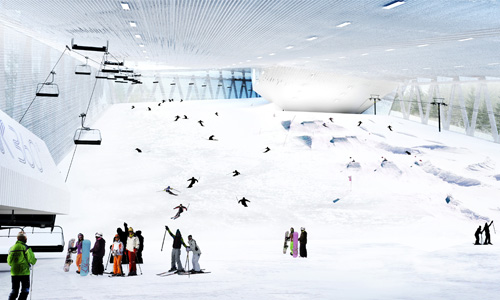 Why wait for winter when you are in the mood for some skiing fun? In this modern age, there is a way out for everything. All those who are forever excited for some snow fun, no longer will they have to wait for winter to arrive. With the option of artificial snow, activities like indoor skiing and dry slope skiing seems to be possible. Beginners wouldn't mind a taste of some indoor skiing fun too. Your adrenaline rush and long awaited desire can be satiated by exploring the best indoor snow centres.
Get an insight of these well maintained indoor skiing and dry slope skiing centres that assure a real life snow skiing experience. One of the great benefits of trying them out is that this is quite affordable and comparatively cheaper than proper snow skiing on the hills. Also, additional gear items like helmet, ski, and snowboard are complementary and there is no additional fee levied on their use.
However, one thing to always keep in mind is that these indoor centres are bustling with school kids during weekends and vacations. An early morning visit to such places can help you avoid the overcrowded situations, especially if you are someone who suffers with claustrophobia. Whatever the case, booking on a priority basis is recommended.
Dry Slope Skiing
This particular sport is quite popular amongst kids. The only glitch here is the artificial look of the snow. This might even hamper the right feel that you would want to experience. This though is one thing that has also gained popularity in the Netherlands.
I once took my niece and nephew for this sport. They loved the fact that the area has a number of options when it comes to surfaces. Be it the rope-tows, magic carpets or drag-lifts you will be captivated by what this place has to offer. My favorite was the chair-lift. A plastic surface can be an easy way to introduce yourself to snowboarding, skiing, etc., but truly speaking it is the other way round. Such places provide you with options of various courses including race-training etc., for everyone.
Food for thought- never get your own pair of skis, you might regret it. A plastic surface usually will not provide them enough friction to be used to their full potential. Ski boots are something that you can bring along though. With an array of rental shops and restaurants/bars you might not face any difficulty in figuring out all required equipment for your skiing session.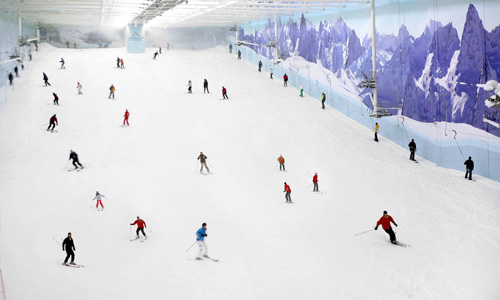 Another crucial thing to remember is the kind of clothes you are wearing for such pulsating activities. Just because the sun is shining bright does not mean you can wear your summer clothes and enjoy the artificial slopes. As harsh as the snow, these artificial slopes can mean a lot of pain if you don't cover yourself well enough. Full sleeve tops and tracksuit bottoms are suitable. You don't necessarily have to wear ski gear.
Talking about skiing, be it on artificial slopes or on majestic snow mountains, unwanted injuries are unavoidable. The thumb and head are the most sensitive and the most injury prone parts of the human body. Hence, the mittens, gloves, and helmets are essential when engaging in such sports.
Although these sports might be more feasible than real snow skiing, one is charged on an hourly basis.
Southeast and West & South-West centres
There are a number of artificial dry slope centres in England. Right from centres in Surrey and Berkshire that lie in the southeast of England to Devon, Gloucestershire in the west and south-west, all cater to the general public. Snowtrax in Christchurch, Dorset is near to my niece's place and hence we often hang there together. This is the one and only large slope in England to use ProSlope, which has an edge over any other artificial surface. Many other centres offer an array of sports games-from ice-skating and tubing to toboggan run etc.
North, Midlands, and East
Those who reside towards the east, midlands, or north have no reason to cry. The Suffolk Ski Centre in Ipswich and the Norfolk Snowsports Club in Norwich (affiliated to Special Olympics UK) provide a lot of snow adventure fun for all groups along with adaptive skiing for people with disabilities. The northern part of England has centres in Lancashire and Sunderland. Derbyshire and Birmingham are other leisure sports centres in the Midlands.
Other Places
Scotland and Wales too have centres in Edinburgh, Glasgow, North Wales, and Cardiff where many innumerable freestyle snowboarding, skiing options are open.
Why go to long slopes when you have an easier option such as the Carpet Skiing one. I have this one to try yet with my niece. A close friend who keeps trying such thrilling games and adventures has informed me that they have a carpet slope in the UK too.
Real Indoor Snow Slopes
Having gained popularity in constructing several recreational centres across the country, the UK aims at opening more such centres that, even though not located on the snow clad mountains, offer best class services. centres in Glasgow have ground temperatures of up to -12°C and air temperature of -4°C. Hence at such places, making sure you wear proper skiing gear is important.
To know about the slope or the ramp is not much of a worry. People who are new to the sport are suggested to use the gentlest section of the snow, whereas others ski on slopes that aren't too steep. Taking the risk of jumping onto tough and difficult slopes straight away can be fatal. Hence, always ski under the guidance of an expert if you are a beginner. The UK has indoor snow ski centres at Hampstead, Manchester, Tamworth, Milton Keynes and Castleford Leeds.
Get going for some entertainment this season with friends and families by hopping on to one such centre in your locality. No more waiting for winter or packing your bags for a ski or snowboarding trip to the hills. All you need to do is call your dear ones and indulge in some never ending fun at these indoor and dry slope skiing and snow sport centres.