If you've never tried backpacking, then here are five reasons why you really should!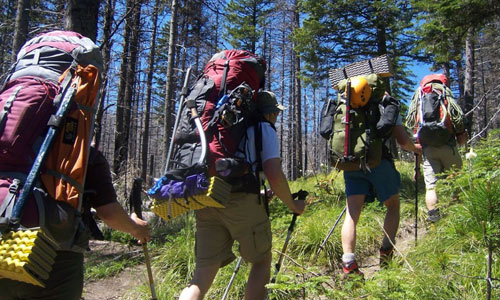 1. The excitement of packing
This may not be the case for your first trip, but for future ones, the excitement of packing up your gear and planning your routes will make you as giddy as a child on Christmas morning. You'll love creating checklists, ticking items off your list and deciding what you absolutely need to bring and what you could do without.
2. It gets you motivated
During the beginning of your trip, you'll likely have a particularly heavy backpack as you've packed a lot of items. This can be tough work, so being in good shape is definitely beneficial. Use this as a way to motivate yourself to train more often, it'll be worth it!
3. Responsibility improves confidence
Away from the hustle and bustle of your town and city, you are out in the open but not free of responsibility. Figuring out how to tackle issues that arise can be challenging, as can keeping an eye on your fellow backpackers – especially if you're leading the way! Figuring out how far you've got to travel before you reach your destination and helping those with weary legs are both important roles.
4. Meeting and making new friends
The people you are out on the trail with are all there for the same reason as yourself – because they love the outdoors. Sharing stories, reaching destinations and tackling issues together helps to form a bond which will hopefully develop into long-standing friendships. Meeting up with these people will only further improve your excitement for the next adventure!
5. The feeling of achievement
Arguably the most satisfying part of backpacking is the feeling we get when we achieve our goal, or come across a gorgeous view. These moments make any and all of the tough moments worthwhile – and you'll want to experience them again. Make sure to bring a camera to capture the view (if you have room)!
To check out our entire range of items, visit our website now where all of our items are available at discounted prices. Orders over the cost of £50 receive free shipping. If you have any questions, please do leave a comment below or message us on Facebook or Twitter!