When skiing or snowboarding, it is very important that you follow all of the safety procedures to ensure that there is as small a chance as possible of any risk of injury. One thing that you can wear to help protect yourself is a helmet, and we have a selection of Trespass ski helmets for you to choose from.
The British Medical Journal undertook a study in 2013, with the results showing that people who do wear a helmet are a massive thirty five per cent less likely to sustain an injury whilst skiing – if that's not worth it, then I don't know what is!
We have a choice of four styles within our selection of ski helmets – with one for kids, two for men and one for both men and women.
The 'Furillo' helmet is available as a unisex option in black or in a lime green for men. Features include a quick release buckle, an adjustable fit, rear retention, adjustable vent system and a goggle clip. This helmet also has a 'high impact ABS shell' and uses high density EPS core foam. Importantly, it also meets the safety standards (CE EN1077: Class B) which means that it has undergone tests to prove that it meets the specification needed.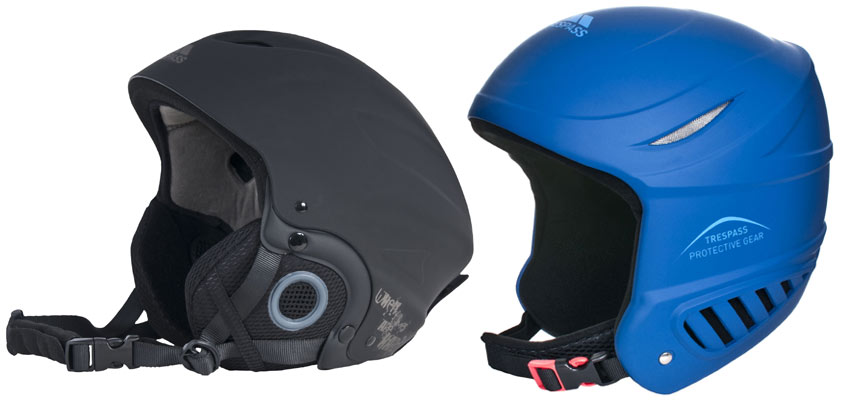 Our helmet for kids is the 'Belker' helmet which is available in blue. Of course, this helmet also meets the same safety standards as the 'Furillo'. As well as meeting the same specification, the children's helmet also has a quick release buckle, rear retention and is adjustable, allowing for a better fit. A goggle retainer is an extra feature which could definitely come in handy!
Last but not least, we have the 'Skyhigh' helmet which is constructed from a high density ABS lightweight shell and EPS core foam. Offering extra padding with its removable ear pads, this helmet is also adjustable and contains a buckle and goggle retainer.
All four of these helmets are currently available at discounted prices – just in time for winter and the new ski season! Make sure to check out all of our ski clothing to ensure that you're fully kitted out. Orders over the cost of £50 receive free shipping. If you have any questions, please do leave a comment below or message us on Facebook or Twitter!