If you think that the right way to pick training shoes is by matching them with your workout outfit, you've definitely been inviting shin splints and aching heels. To avoid that and even enjoy a brisk walk or running session, it is important you check this this guide on choosing the right pair of training shoes.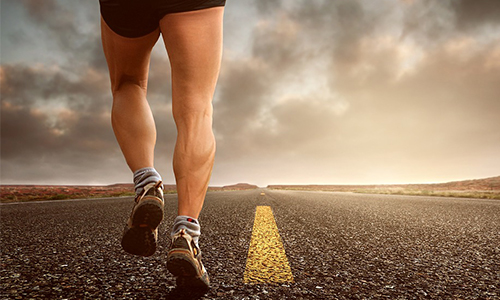 Types of Training Shoes
The distinction is made between three types of fitness and training shoes – cross training shoes, road running shoes and trail running shoes. Several brands offer these shoes in different designs and styles. If used for the intended purposes, they make a huge difference in your overall performance.
Cross Training Shoes and How to Choose
If cross training in the gym is your thing, then investing in the right pair of shoes for that is an absolute must! They are all around shoes and can meet several of your workout needs including weightlifting, CrossFit training, running and cardio based workouts.
What Differentiates Cross Training Shoes from the Rest – The cross-training shoes are designed to provide lightweight comfort and have cushioning in the midsole. Their soles are fashioned with the durable, non-marking rubber and are wider than most athletic shoes to allow stability and lateral movement. The rubber material also provides superior traction and allow versatility, making them perfect for a range of sports and gym endeavours.
Road-Running Shoes and How to Choose
These are among the most common of the three types of training shoes and are widely recognized as 'running shoes'. The sub-categories vary depending upon the type and style of running you get them for. Generally, these training shoes are used for running long distances on asphalt, sidewalks and concrete paths and even marathons.
What Differentiates Road-Running Shoes from the Rest – A great pair of running shoes is one that provides cushioning and supports the forefoot. They have waterproof and breathable uppers along with rubber outsoles for traction and grip to keep you comfortable through all your workout sessions.
Finding the Best Trail-Running Shoes
Trail-running shoes are designed to keep you comfortable on technical, rocky trails. They have thicker, lugged and grippy sole for traction and prevention against slipping. Their stiff construction with premium quality materials effectively withstands abrasions and tears.
The trail-running shoes are heavier than road running or cross-training shoes and therefore, not an ideal choice for running long distances on paved surfaces or treadmills. They are considered a hiker's favourite gear!
What Differentiates Trail-Running Shoes from the Rest – The sturdy built of these shoes make them perfect for a plethora of trails, including dirt paths and rocky roads that require more grip. Make sure you buy the pair that provides a proper, customized fit for maximum impact.
Summary
Get ready to take on any sport or workout by investing in a pair of training shoes that fits right, provides proper cushioning and ensures enough traction and grip to keep you safe. Getting the right foot gear will not only ensure happy trails but will also add value to your workout sessions.