Hi Everyone,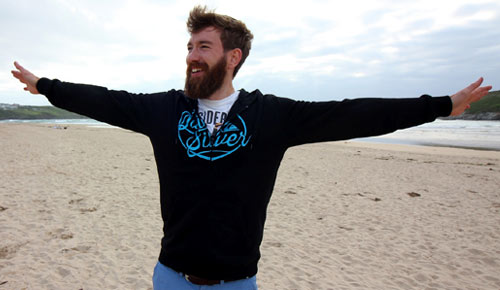 My name is Mike and this is my first ever post for Outdoor Look. I'm really excited to be writing for Outdoor Look, as it makes a nice change from writing for my own site: Wild Tide. I really love Outdoor Look and am proud to be associated with them as they do a couple of amazing balancing acts: delivering great brands at brilliant prices and stylish garments that are practical for outdoor living.
I thought I'd kick off with a little article about something which I really love – BBQing! The major trick to having a great barbecue is keeping it easy and stress free and these tips should really help with that.
Use a good BBQ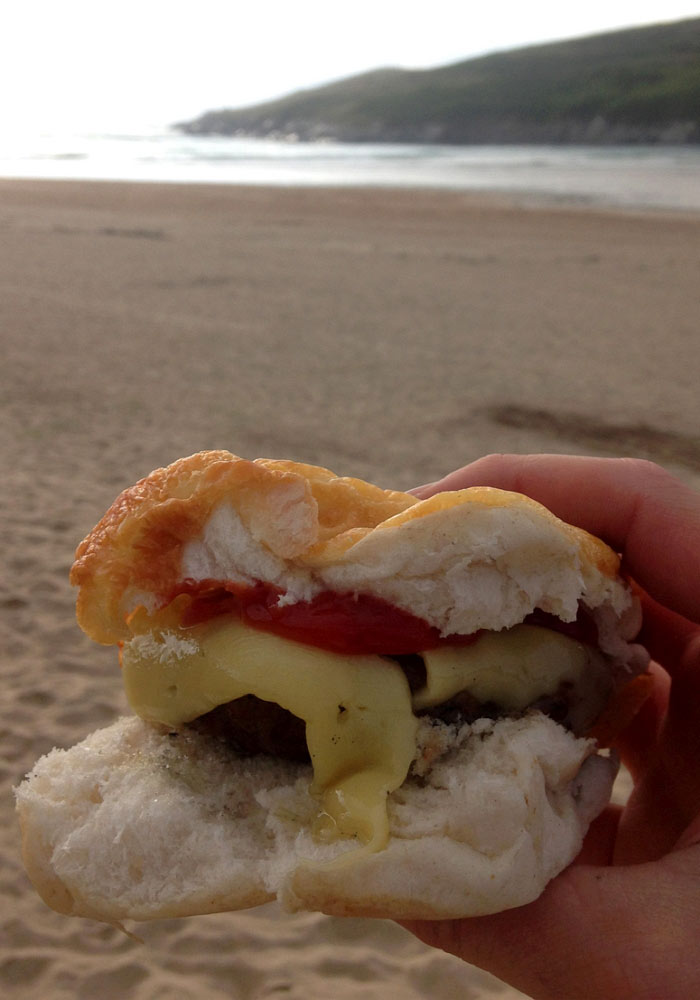 I'll start off by saying don't buy those terrible little disposable things. At the core of your charcoal-based soiree is the food. To get evenly cooked food that doesn't have a crusty, burnt outside and an almost raw middle, you need one thing on your BBQ – a lid! Buy a proper little charcoal BBQ with a lid and your food and guests will thank you for it. Also, you'll get your money back in no time at all as a big bag of charcoal is way cheaper than buying lots of disposable ones. Don't forget the environment too – disposable is always bad!
Another top tip is to light the charcoal in a pyramid and then leave it 30 minutes before spreading it out and starting to cook on it. If you don't think you have the patience to wait that long, then make sure you bring some snacks for everyone to share and tuck into.
Get prepared with a BBQ Grab and Go Box
You don't want to have just one good BBQ all summer do you? You want to have an epic one every week. In order to keep the faff down and make impulsive barbeque a piece of cake a little bit of preparation is all you need. Go out and get a big box with a lid (I bought one of those 90litre ones you see in supermarkets- you might be able to spot it in some of the photos). Next, organise the box with everything you need. Here is the contents of my Grab and Go Box:
Small charcoal BBQ with lid
Charcoal briquettes
Lighter fluid/gel
First starting blocks (I use all the help I can get to get my BBQ going. You're not Ray Mears, you have nothing to prove, use all the fire starting helping you can get - I say!)
Matches or a lighter, in fact I keep a box of matches and several lighters in there.
Big butch BBQ tongs and a large metal burger flipper.
A roll of kitchen roll
Bottle opener and corkscrew
Picnic blanket
A couple of carrier bags for your rubbish. Keeping the beach clean is way important!
That's it, now use it, clean it and put it back – never remove or separate that gear. Keep your new BBQ Grab and Go Box intact. Although all that equipment is pretty standard, the difference between having all of it in one big box or all over the place is incredible. Just being able to grab it and go will make your life a breeze and mean that you're never running around the beach asking to borrow a lighter or trying to open your bottle of beer on a rock!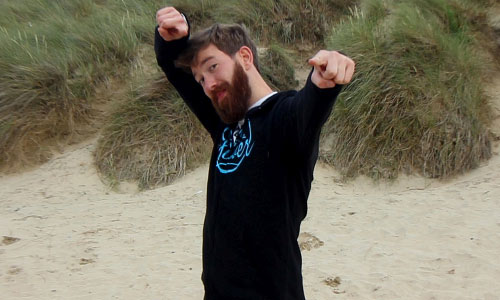 Bring the right clothing
One of my favourite things to do is head out to the beach in the early evening and hang out with friends to watch the sunset. Then as the darkness creeps in, the beach seems to take on a whole new persona; such a wonderful time to hang around, the glow of the BBQ embers dimming slowly. Pretty perfect, isn't it? However, when that sun sets, it can get chilly pretty fast. Even in the peak of summer, when the sun's gone down, wearing that tee shirt and shorts combo, you'll still feel the cold quickly.
That's why you need to throw a hoody in your van and be prepared. I've just got a new one from Outdoor Look. It's a zipped, black Quiksilver hoodie with the Go Team graphic printed on the front and I love it as it is such a good quality piece of clothing.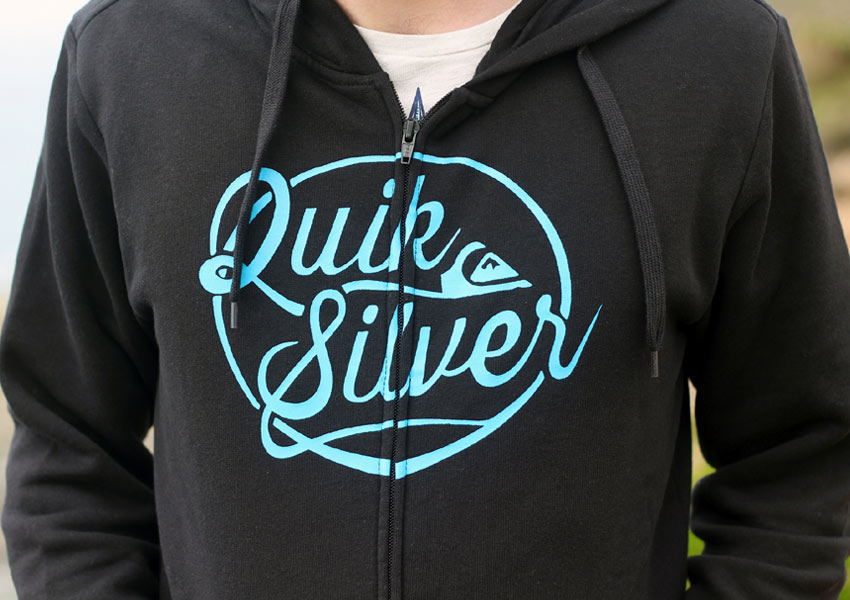 The hoodie is a very flattering fit and comfy to wear. Both the inside and outer material feel really soft to the touch as it's made from a brushed cotton-polyester fabric (80% Cotton, 20% Polyester). It really is the perfect thing to chuck on when your arms start to get 'goose pimply' as the brushed cotton helps to make this hoodie keep you nice and warm.
I think that zipped hoodies are brilliant for the summer as you can regulate your temperature a bit better with them. Unzipped for during the day, and then gradually doing that zip up as you get colder. I think you'll agree that the colour and design of this hoody is awesome and looks super cool. The contrast of the bright blue colour of the logo against the black looks so stylish. Plus being made by a brand as synonymous with the beach as Quiksilver, you know it looks right at home by the sea.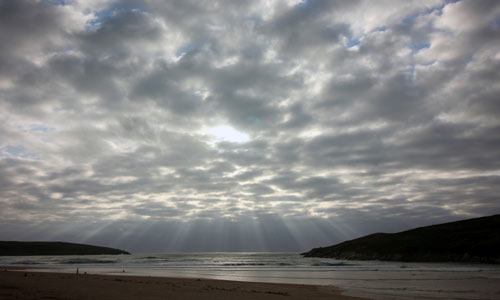 If you want to be a really swell host then chuck a few more hoodies in the back of your vehicle so you can offer them to all the fools who forgot to bring something to put on during the cooler evenings.
Beach Toys
There's going to be some time to kill while the charcoal gets ready and there's nothing like a beach game to get everyone even more hungry and desperate for some grilled sustenance. I keep three beach games in my van at all times. An Aerobie Pro Flying Ring – simply the best Frisbee you can get. It's got the World Record for furthest thrown object at a staggering 406 meters. With one of these you and your friend can get some awesome distances and incredible catches.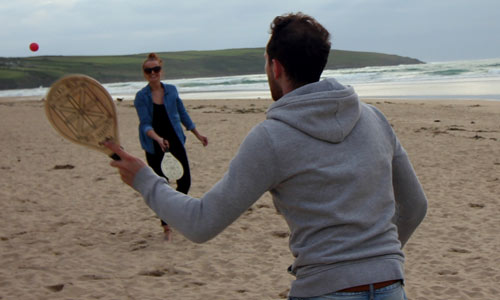 Another beach game must have is another affordable one- the wooden beach bat and ball. With one of these and a bit of imagination, you can come up with some really fun games and challenges. The best bit is that on sand you can really dive for the ball!
The third and final beach game that has recently become a big hit when I go to the beach is Smite a Cornish cross between skittles and boules but with much more tactical element as well as feeling a lot more fun and exciting at the beach. I hadn't heard of it until recently and recommend that you check it out!
Anywho, with these four tips I hope that you can improve your barbecuing, make it easier for yourself and ensure that you and your friends get to the beach to have even more fun in the great outdoors!