I love to workout regardless of how cold it gets. Even when it snows, I find time to go out in the open and perform my scheduled run. You may wonder how I find the courage to go out in the extreme weather. Well the answer to your query is the solution to age old problem of all the fitness freaks in the world. With the 5 below mentioned essentials which I am sharing here, I have found a way to stay fit even when the weather becomes a major adversary.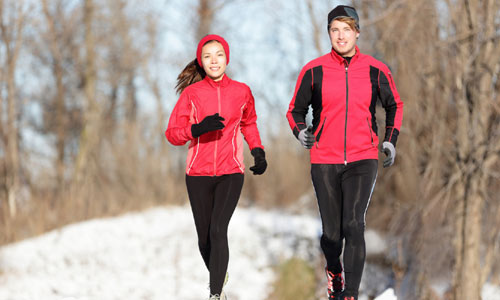 1. A Jacket Is A Must Have
A Jacket is synonymous with cold weather. It is a must-have for those extremely cold days when you plan to go out for a run. Whenever I buy a jacket for my outdoor workout, I make sure that it is lightweight and has reflective accents. This helps me in being agile during my workout.
Recommendation: Heat generated while working out should be taken into account before selecting a jacket. I recommend that you select a jacket which can keep you at least 10 degree less warm than you feel like you would need.
2. Lightweight Layers - For Beating the Cold with Ease
I have found that wearing thin layers underneath my clothing really keeps me warm without adding extra weight to my ensemble. A T-shirt or tank top which draws sweat off the skin to the outside of the fabric paired with a stretchy long sleeve will act as great warriors against cold. I advise that you look for merino wool, polyester, or polyester blend fabrics.
Recommendation: Cotton tops and bulky T-shirts should be avoided on those cold outdoor excursions. It is imperative that you wear moisture-wicking clothes as getting wet in the winter is not only uncomfortable but also dangerous. Check out our great range of Under Armour and Canterbury cold weather t's and base layers.
3. Shoes - For a Run Full of Fun
Shoes are prized possession of every athlete. Even though I am not a professional athlete, I make sure that I invest wisely when it comes to buying the item that covers my most used body part while running. Wear shoes that fit you perfectly and are made for countering cold and wet weather. It is imperative that your running shoes are waterproof as any kind of water seepage can adversely affect your health.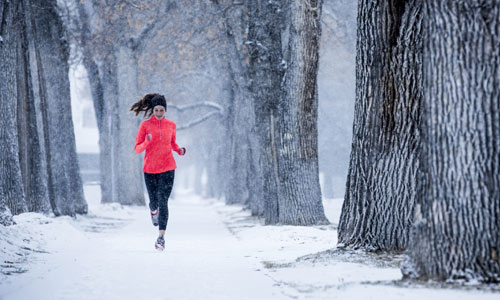 Recommendation: I advise that you pair your shoes with the right socks for a pleasant experience while running in cold weather. Buy and wear socks that cover your entire ankle for extra skin protection.
4. Running Tights - To Fight Cold Weather
Keeping optimal temperature in your legs is extremely important on an outdoor run in the cold weather. Make sure that you buy tights which are made with performance fibers which have the ability to manage sweat with its moisture- wicking properties.
Recommendation: While buying running tights, do not get swayed by fashionable pants and invest in pants which are made with a combination of fabrics, including polyester, elastane spandex and nylon. Take my advice and avoid cotton at all cost. Invest in some running tights which have pockets, very useful for storing your house key or your ipod.
5. Winter Accessories - For Extra Protection
Hats and Gloves are equally important while going outside for a run in the cold weather. These accessories cover your vulnerable skin and keep you warm. I find it's better to take these items on the run / work out and take them off when I'm warmed up, circulation is key here at the start of the workout. Keeping the essential parts of your body warm will help your get into your stride comfortably. Start off cold and staying cold won't help you enjoy the experience.
Recommendation: I recommend that you wear lightweight fabrics like base layer fleece or better still merino wool; and stay away from chunky wool hat. Moisture-wicking property should always be the main criteria before buying any winter accessory for an outdoor run. It really will help you moderate the fluctuating temperatures.
Visit our website now where you can find our full range of products. Orders over the cost of £50 receive free shipping. If you have any questions, please do leave a comment below or message us on Facebook or Twitter!