When you're going camping, don't forget to bring these top 10 essentials!
First Aid Kit.
Plasters, bandages, bug spray, bite cream and anything else that could be helpful, should all be brought. You hopefully won't need them, but better safe than sorry!
Bin bags.
One of the best ways to enjoy your camping trip is to keep your tent and the surrounding area as clean and tidy as possible. If you bring bin bags, this allows you to store your waste food or any other rubbish in one place. The same applies for dirty clothes.
Clean water.
The need for clean water when you're camping is clear. Not only do you need it to drink, but for other activities too such as washing and cleaning your teeth.
Wet wipes.
Wherever you are, you need to clean yourself. This is no different on a camping trip and with no running water, wet wipes are crucial, allowing you to clean your hands before eating, wash your face and more.
A lighter.
A lighter or a box of matches could be an invaluable addition to your equipment, just in case the built-in igniter on your gas hob stops working. If this does happen and you don't have either a lighter or any matches, you won't be able to cook your food – but of course, you'll need wood too! You could even use them as a source of light, if you really need to.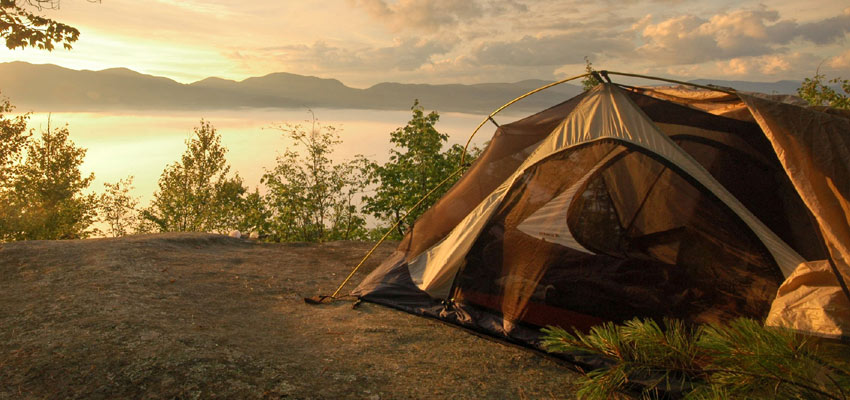 A torch.
At night, there isn't going to be an awful lot of light, so if you need to get anything during those dark hours it might prove difficult. You could always use the light from your mobile phone – but a torch is more powerful and won't affect your phone's battery life. Spare batteries are also a good option – just in case.
Wellingtons.
It doesn't matter what the weather forecast has said, you should always bring a pair of wellingtons. When you're camping in a field, it's always likely that you'll find a muddy area – so make sure that you're prepared.
Duct Tape.
Duct tape is very useful as something which can be used to fix a number of different problems which may arise whilst camping. Whether you're looking to secure something in place or stop a tent tear from getting worse, duct tape can help!
Camping chairs.
When you're camping, having an alternative place to sit rather than in your tent is always welcome. Whether you're enjoying your breakfast or watching the sunset, the option to sit at a table with chairs is a welcome benefit.
A camera.
Although a camera is by no means necessary, it's one of those things which is always nice to have with you so that you can capture those great moments.
Our full range of products are available on our website now at discounted prices. Orders over the cost of £50 receive free shipping. If you have any questions, please do leave a comment below or message us on Facebook or Twitter!