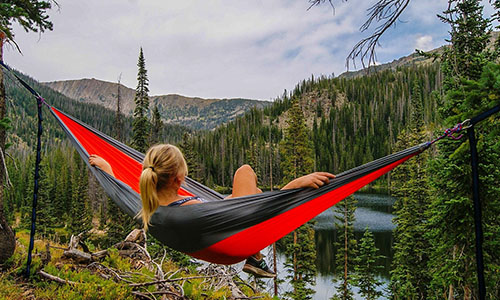 Hammock camping has become a popular trend these days. Setting up a hammock in cold weather may sound like a crazy idea, but believe me, it is nothing less than fun. Those who plan camping in winter can go for hammock as it helps you keep warm and cosy. You only need to pitch the hammock in the right area to- stay warm.
The hammock is comparatively lighter than the 3-season or 4-season tents. It is light and easy to pack that it can be packed down to a size of a softball. Even, it requires no equipment or tools to set up. The only thing required is straps that you can tie in between two trees. This is particularly good in winter as it keeps you off from the cold ground.
Here are some tips for you to plan your hammock camping trip.
Prepare for Hammock Camping
- Essential gear: Hammock and ropes are essential gear, especially for hammock camping. You can also carry additional gear like sleeping bag and tarps. A sleeping bag will keep you cosy and warm. Additionally, the tarp can be used to save you from wind, snow and water.
- Additional gear: You can carry a pillow, sleeping pad, under quilt and top quilt to help you sleep comfortably. The under quilt and top quilt can be used for insulation and keep you warm.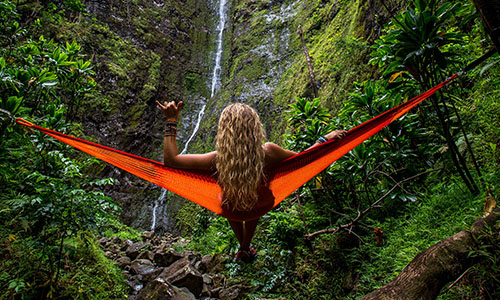 - Choose the right clothing: Packing up with warm winter clothes is important in the winter camping. Getting an insulated, waterproof jacket is important to protect you from moisture and cold. Choose a base layer made of moisture-wicking material. The base layer should be warm, preferably made of fleece. The outer layer should be the final protective layer to keep off the rain and wind. Don't forget warm mittens, socks, beanie or hat.
- Buy the right hammock: No matter what the weather outside, a hammock is your perfect gear. Select a hammock that will keep you warm, and dry. Remember that you cannot compromise on its quality as it will be your shield from the harsh weather. Go for a lightweight, strong hammock that fits in your pocket.
- Right spot for camping: Select a camp between the trees or anchor points so that you can set up a hammock. Avoid areas that are open as the wind will make you feel cold as well as leave you rocking and rolling with every gust of air. Hence, set up your hammock in an area, which is protected.
- Know your limits: If you are a beginner, you should try with a brief camping trip to test whether you can survive or not. Even, don't just choose an extremely cold night to plan hammock camping. If you feel good then, you can go for a longer time.
So, keep these things in mind and prepare for the next hammock camping trip. Bring hand warmers to keep your hands warm. Keeping a thermos for warm water or tea in the chilly weather is also a good idea.