Winter means the days are getting shorter and the nights longer. Despite this fact, many of you will like to or rather love to enjoy the outdoors, the snow, the wind, and everything that comes with it. More importantly, for those of you who love to hit the trail, all year round means that in winter, you will spend more time on the trail when it's dark.
For those who love outdoors or are adventure enthusiasts, hitting the trail after dark during the winters seems like the right thing to do, but without proper knowledge, every turn on the trail can be dangerous. So, to stay on the safe side and enjoying the thrill while it lasts could be your best go-to motive this winter. Follow these tips and stay safe when on the trail.
Use a Head Lamp
Humans do not see as clear as animals do in the dark, so some help is required to see properly. In such situations, you can rely on headlamps to be your best bet during the dark hikes and run. The simple option to go with is to wear the headlamp on your head, but there are also few other options available. If you are one of those people who feel dizzy with a bright light in front of the eyes, you can always try a waist lamp. To get a better depth of perception, the best bet is to wear a waist lamp and a headlamp for the brighter and wider beam.
Make Yourself Visible
If you are out in the dark hitting the trails, then you will not have to worry about being seen. On the other hand, if you have picked urban roads or sideways, you must make sure the cyclists and vehicles can see you with their lights on. The easy way to do so is to wear clothing or attire that has reflective pieces built in the front and back. Even if you do not have reflective clothing, you can always find reflective tape for this and be more cautious in your night running regime.
Stick to Familiar Routes
If you try hiking and running in the dark for the first time, it is always wise to stick to the routes which you know. It can be any place around your house or neighbourhood. This is especially important when you are running alone. Darkness can be disorienting so it is always good to stick to familiar ground.
Stay Away from Winding Routes
If you wish to branch out while on the tracks, stay away from trails and tracks that are too winding or are less accessible during the night. By doing this, you will be able to ward off potential injuries. Darkness amplifies the risk and you do not want to face any injury while running the trails alone.
Use Navigational Device
Darkness amplifies disorientation and even familiar routes might throw you off the track. Apart from layering and wearing proper clothing, the navigational device also plays a significant role. Use GPS based navigational device when you are out in the dark. They are more accurate when you are lost in the dark, and can help you reach home safely. Use any GPS app, stick to familiar routes and you are good to go.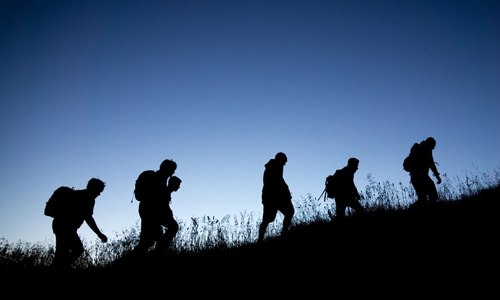 Safety First
Apart from following the instructions mentioned above, it is also important to let your friends and family know where you are heading. In case of accidents or injury-related complications, a text might be a life-saver.