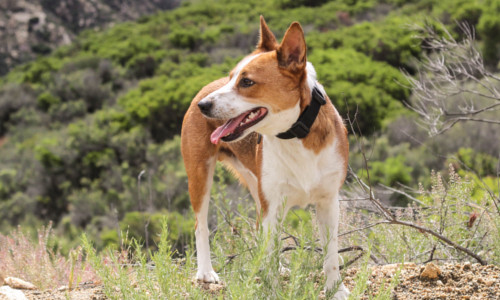 If your dog is a good boy or girl, then you may wish to take them on a hike with you. But, taking your dog for a trail-walk can be a hectic job when it's not yet trained. After all, you don't want your dog getting scared of motorbikes or disturbing other backpackers on the trail. It is with acknowledgment to the fact that there are other people with their dogs, cherishing their own escapade in nature, that you must train your dog to respect other's space.
While the sight of people enjoying and sharing their trail with their four-legged friend is a remarkable sight, it also calls for responsible behavior on your part. On the contrary, you will also find hikers who are not so willing to share their space with dogs, are afraid of dogs, or even dislike them. In such case, any little mistake or mishap will instantly result in the banning of all dogs from the trail.
Once the well-being of everyone else is considered, your dog faces its own kind of threats during the trail that you will need to manage. Other animals, diseases, damaged paw pads, and even wildlife traps are hazards that must be mitigated.
There are many things that you need to consider before taking your buddy on the trail with you. Observing the situation from different angles will render a better training program for your dog.
Begin With Understanding Your Dog – If you wish to self-train your dog, understanding its behavior is the stepping-stone to the training. It's natural that you feel ecstatic about taking your live-in companion with you. But, you can only be sure about how to keep them safe and comfortable once you recognize what they fear, and what can comfort them. Find out what level of height is okay for them in order to prevent sickness. Know how much water and food needs to be carried. Training a dog against wild animals is as important as training them to be obedient and well-behaved around strangers, other dogs, off the leash, and on an open ground.
Bridge Communication Gap – Teaching your dog can be difficult in the beginning. It might even begin to stress you out. However, the solution for me was using the signs as well. I would gesture my index finger while asking my dog to "sit down". I found it necessary to use both verbal and hand signal commands while training my dog. That has reasons.
Scenario 1 – You see your dog is busy having fun at a distance and you know nothing in this world will convince it to leave the butterfly alone and look at you. If your dog is only sign-language-trained, he sure is not to be left off-leash (unless you know dog-telepathy).
Scenario 2 – You don't want everyone on the trail to know the commands your dog is following (potty-training involved). You cannot scream at it to "go potty" when there are hikers who are probably relaxing or even unpacking their delicious lunches.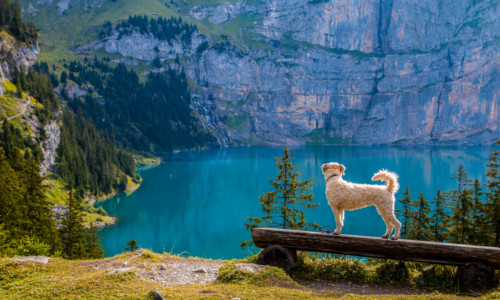 Take Inspiration from Stage Shows – Prepare your dog by acclimating it to things like backpacks and trekking poles. Create a scenario by using them around your house for some days. Do not forget to train it to carry its backpack. Do not make it carry more than what it can handle comfortably (up to a quarter of its own weight) and ensure that the backpack sits comfortably between the nape of its neck and just shy of its hips.
Potty-Training Tips – Begin the training at home. Use shorter and to-the-point phrases when commanding your dog to relieve itself. It is always better to use more than one phrase to make it sound like two people talking rather than just a robotic command. Use humbler tone and reward your dog with treats and pats.
Take the dog exercising and regularly – If your dog were not habitual of long walks, it would certainly be worn out by the end of the day. Therefore, it is better to take your dog out for swimming, or letting it chase you as you bike. It will keep your dog ready and prepared, without weakening its health or exceeding its physical limits.
Maintain Consistency – Consistency is the key! I, for one, could have never been able to take my dog for a trail if it weren't for all the patience and consistency. Keep the rules and routines, same on the trail as at home. This will eliminate unpredictability and confusion. The last thing you want is your dog testing you and challenging you on the trail, putting itself and people around it in danger.
Keep Your Options Open – If you find that self-training your dog is jeopardizing your bond, you had better seek professional trainers. While, several guides are now available through books, magazines, and online PDFs, you can always keep your options open for better and easier results.