It is imperative to consider all aspects of hiking boots before you buy a pair that suits you. This can help you gain more knowledge and save a lot of money that you have spent on the wrong stuff otherwise. General requirements that everyone considers includes comfort, weight, and resistance to water. However, there is much more to hiking boots that we will discuss here so you have a clear idea of what would be best for you.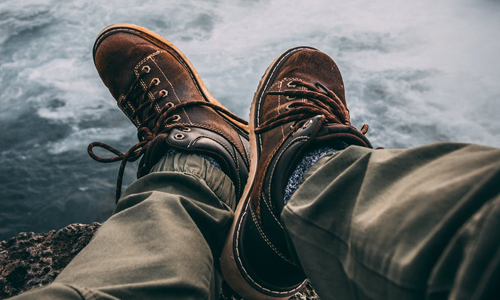 Cut down the Confusion by Asking Necessary Questions
Being clear about what you want reduces effort and saves you a lot of time that can be utilized somewhere else. You can start off with asking yourself necessary questions:
Which Type of Hiking Am I Going On?
What is my budget?
Where is the most suitable place where I will get the boots I need?
Types of Hiking Boots
For those who are new to hiking and are not aware of the different varieties in hiking boots, a thorough understanding is needed to choose the one that would keep you comfortable and safe. Majorly, there are 3 types of hiking boots:
Lightweight Standard Hiking Boots: These are designed for hiking conditions with low-impact terrain that has pre-defined trails and gentles slopes. They are really lightweight and made using a combination of synthetic and leather materials for maximum breathability.
Mid-weight Backpacking Boots: Designed for moderate inclines and uneven terrain, these are heavier than the standard hiking boots. Get them for long hikes as they have enough cushioning that can support your feet and ankle despite you carrying a moderately heavy backpack.
Heavy Duty Mountaineering Boots: Such hiking boots are made for steep slopes and off-trail expeditions. The have excellent ankle support that allows you to carry heavy backpacks with supplies for multi-day hikes. The thick and stiff sole can handle the toughest terrain and is also available in crampon compatible option for those who want to go winter climbing.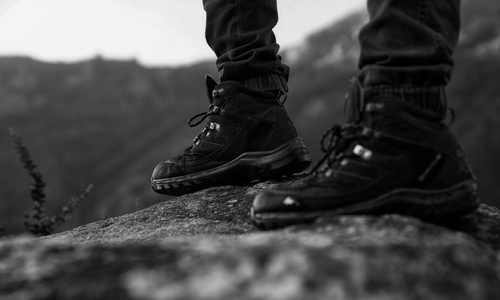 Waterproof Hiking Boots
Hiking boots with a waterproof membrane prevent water from entering inside the footbed. Technologies like Gore-Tex make boots waterproof and suitable to be worn on trails where you have to wade across deep streams. These boots work perfectly when the water is below the ankle cuff and the membrane is perfectly fine.
What to Check When You Have Chosen the Right Boot?
There are a certain things that should not be missed before make the final call with the hiking boots you have chosen:
Does it fit: Fitting is the most important thing. It decides whether the boot would keep you comfortable and safe on a rough terrain. It is recommended that you wear the same pair of socks you would wear while hiking to check the fitting. The most important thing is how they make you feel when you wear them. If they feel safe and comfortable, go ahead and make the final call.
Type of Lacing: It you plan to put a lot of miles in your boots, then you should consider the ones that have flexible lacing mechanism. Different types of lacing can help relieve foot pain.
All these factors helps you choose the right boots for your hike. A good pair of boots majorly contribute to a safe and adventurous hiking experience where you do not have to worry about the terrain and the climate. Therefore, it is necessary for you to be very precise in choosing a pair.