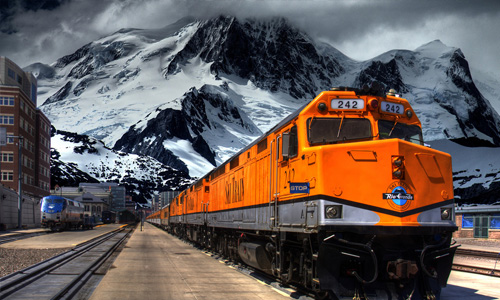 Spending time up in the mountains with family and friends is what most skiers dream of. White Snow Mountains, fun time skiing, and a cozy resort to rest, can be a lifetime experience. Well-connected destinations are often more explored as these are easy to reach and travelers do not have to waste time and money in sorting out the how, where, and when.
Travelling by road is not as easy as it sounds. It gets even tougher when you are travelling with a bunch of people and looking forward to indulge in some adventurous fun. Not only does it get tiring but there are few unknown risks too, that can spoil the entire trip for you. Recently, Austria has introduced a sleeper train route to the slopes of Tirol. Train journeys to such adventure spots can be an easy and safe alternative. This opens a variety of options for skiers and their family members to look for the best resort amongst the many that are set up the mountains mostly. Not only does this helps in saving time but also you can now enjoy your favorite snow sport to the hilt.
What better way to enjoy the chilly winters, than to relax in the comfortable couchettes of the rails. Not just this, the trains usually have the facility of ensuite washroom and shower. Reaching the Austrian Alps is no more a painful journey. With a Eurostar to Brussels and an after the NIghtJet sleeper journey can be one of a kind experience. Having a true love for this sport of skiing, I believe in exploring new places every year along with my ski expert friend Daniel. Below is the list you might just want to have a look at.
Village of Alpbach in Austria
Best in Austria, this place is no less than skiing paradise for skiers. I was astonished to see this village connected with the Wildschönau valley through a gondola. Guess what? This link has been successful in creating 145 km of more terrain space. The slopes, lifts and all other amenities are well provided with. Beginners can opt for this breathtakingly beautiful place to start off with their first ever skiing experience.
Stay in the cozy mountain huts located on top of Schatzberg is a must-to-do thing. Appreciate the picturesque views of the landscapes and peaks from the top. The route to reach here is quite easy. A Eurostar trip to Brussels, followed by ICE journey to Cologne and then boarding a NightJet sleeper to Jenbach is all it takes to reach this stunning place.
Soll in Austria
The village of Soll has 284 km of ski area encapsulates 77 mountain restaurants and apres-ski bars. With Alpeniglu village that is known for being house to 18 igloos is accessible to non-skiers too. If you wish to check out how an ice bar looks like then this place my friend is what you should be exploring this season. The amazing ice sculptures, and the luck to enjoy a fondue served on a crystal clear ice table makes it a next level experience all together. Enjoy the rustic feel of the village around along with night skiing sessions with your loved ones. Not a difficult journey, one just needs to reach Cologne and from there board NightJet Sleeper train to Wörgl.
France-The Hub of Best Ski Resorts!
France has always surprised me with its exquisite surroundings that amplify the beauty of this place. Be it the mountain top located La Rosiere resort with 160 km Espace San Bernardo slope area or the most known Val d'Isere resort- a favorite amongst the Brits due to the slew of bars and restaurants, France is a place that can be listed as the first priority when it comes to looking for stay at skiing resorts.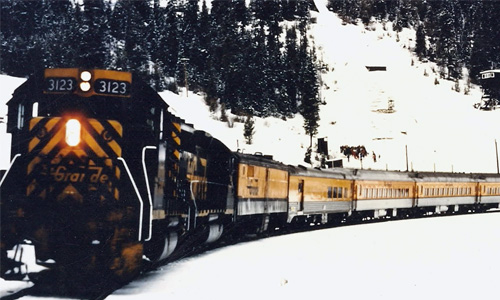 Children too can have a blast at such places with options of snowboarding, snow-kiting, snow-skating, old style sledging etc. open to them. La Rosiere especially is profoundly known for innumerable alternates for kids aged between four to seven. Travelling to La Rosiere is not at all difficult. A Eurostar Ski train to Bourg St Maurice is what you need to do.
One can even delve into some cooking fun by enrolling in a cooking course started by Chef Benoit at Val d'Isere. Savor some delectable mountain dishes on your trip to Val d'Isere this season. Reaching here requires boarding a Eurostar Ski Train to Bourg St Maurice.
Val Cenis, Les Gets, and Peisey-Vallandry
Skiing with family can be one of the most cherishes experiences of a lifetime. Resorts at Val Cenis in France welcomes several families every year. This place is bustling with life due to the scenic beauty around. The Maurienne valley to Lac Du Mont Cenis, you can soak in all the nature at once. Try out sundry snow activities- right from husky dog-sledding, ice-climbing to paragliding and cheese-making, Val Cenis will never disappoint you. Travel Eurostar to Paris-Nord and then change to Paris-Lyon and take the TGV to Modane. From here it is 30 minutes more to the resorts.
Road-train ferry travel is such a delight! When you are around Les Gets in France, exploring local slopes at Mont Chery and being a part of the Skicolor festival can be a mind-blowing experience. This area is a part of 650 km Portes du Soleil ski area and is full of white suit skiers who look fantabulous enjoying every bit of the Skicolor festival. You will have to change at Bellegarde in order to reach Cluses which is 25 minutes away from this heaven on earth!
Situated in Savoie, Peisey-Vallandry provides the tourists varied environment along with being culturally rich. In the heart of Paradiski, this authentic village resort has a ski area on the mountains of Les Arcs. Summers are the best time to explore this place where one can even try out sledge rides, snow shoe walking, biathlon, or simply feel fresh and full of life exploring this land on foot. Hop on Eurostar Ski Train that will drop you to Bourg St Maurice from where it is a 45 minute drive.
Other Resorts in France!
When you have a number of alternatives to choose from, your happiness knows no bounds. With ski spots such as Tignes, Montgenevre, and La Plagne in the neighborhood, one can never feel a dearth of skiing resorts. Plan your vacation with family without being bothered about where and how to stay. Tignes is 40 minutes from Bourg St Maurice and opens up unlimited snow activity fun leading to happiness galore. This place is known for Bun J Ride which is a combination of a ski jump, bungee and a zip-line ride for the ones who aren't afraid to try daring stunts!
If you are someone who is looking for an escape from the hustle-bustle of cities, then Montgenevre is the place to be in. The lack of queues, easily accessible piste, scenic views, and traffic-free environment, makes this place a favorite amongst the experts and experienced skiers. This area is a part of 400km Milky Way ski area and has options of spa and swim complex for you and your family members. A TGV train to Oulx is the easiest way to reach this destination.
Lover of Higher Altitudes? Get your feet on this angelic place that is usually crowded during the Easter time. Providing the tourists with various entertainment activities makes La Plagne the most travelled to skiing area. Beginners will love every nook and corner of this land. Olympic bobsleigh and a new 2km zip-wire from Belle-Plagne to Bellecote are the highlights of this area. A Eurostar Ski Train to Aime is the fastest way to reach La Plagne.
Get high on skiing by choosing one of these skiing destinations this year! Look for proper details and also research before splurging unnecessarily on such mountain top destinations. Try rail travel this time and see the difference for yourself.