With the big day only a few days away, you may be looking for a last minute item or two to bulk up your stocking. Here are a few ideas!
Hats
We lose a lot of heat through our heads, so ensuring that we can retain as much of that heat as possible is very important for when the temperatures start to drop. With winter upon us, the recipient of a new hat would only be grateful. Whether the best option for you is a beanie or a winter hat, the choice is yours – but either will be greatly beneficial.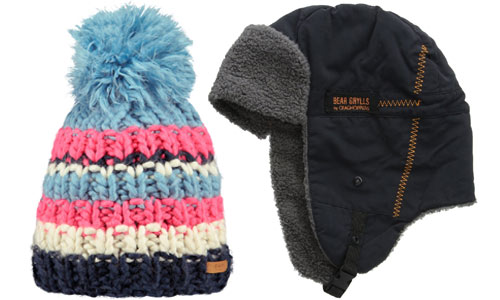 One of the most popular suppliers of beanies currently, the Sophie ladies beanie hat from Barts possesses a number of key features to keep their head protected this winter. Made from a chunky knit, with a fleece lining – this hat is perfect for those wintery walks. It also has a pompom on top and prevents your head from getting itchy – something which anyone who's worn a hat a lot will be thankful for!
If a beanie just isn't quite offering enough warmth, opt for the Bear Grylls Trapper winter hat! This hat not only protects the top of our heads from the bitterness of cold weather, but protects the entire head! Including a fleece inner with ear flaps to keep ears warm as well - use the chin straps too to fasten it into their preferred place.
Gloves
As well as keeping our heads warm, it's important that our hands are too.
Barts' Empire ski gloves have a water resistant shell, a PU palm and are lined with soft bemberg. Perhaps the key part however, is that they are insulated by a fiber fill – which will keep your hands toasty and warm during those chilly winter walks.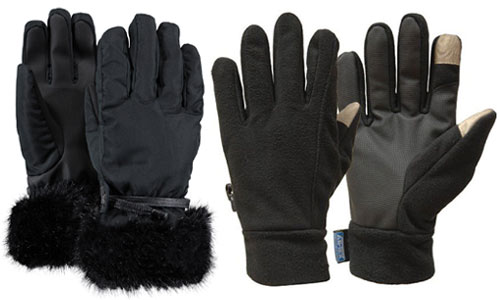 If, like many people, the recipient feels stuck to technology even when they're out and about – the following Highlander gloves may be of interest. It's never pleasant having to expose your gloves to the cold when you need to answer a phone call or reply to a text – and with the Highlander Touch Screen gloves, you won't have to. As well as including a very handy touch screen compatible finger and thumb tips, this glove is also wind and water proof – keeping your hands shielded too!
Socks
Forever a typical, but great gift option, for parents – it may not be the most exciting present you'll give, but they may be one of the most used. We have sixty-one different styles of socks available currently, with various sizes and colours available.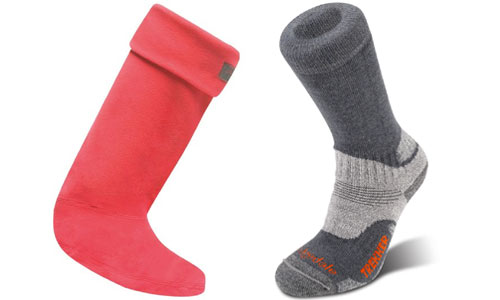 Regatta's Cozy welly socks for ladies are a great option to wear at this time of the year. Made from fleece, they will keep your feet warm and comfy (hence the name!) for all of your outdoor activities!
For men, Bridgedale's trekker sock is a fantastic style to wear all year round. Designed specifically for those who enjoy hiking, this style benefits from additional cushioning and padding – keeping your feet comfortable even during long walks.
Visit our website now where you can find our full range of items that are currently available. Orders over the cost of £50 receive free standard shipping. Express, next-day delivery is available for eligible items.
If you have any questions, please do leave a comment below or message us on Facebook or Twitter!