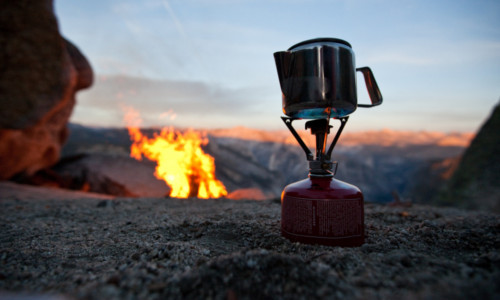 Coffee is a beverage that gets you ready for the morning ahead by lifting your spirits in an instant. Coffee lovers all over the world swear by their morning cup, and many can't stay away from it even for a day. It is all well and good when you are at your home and have ample resources for preparing coffee. The challenge arises when you are away on a hike without supplies.
I have no shame in admitting that I am ashamed to be a coffee addict. When I first went on a hike with my friends and had to spend the day without coffee, I felt so alone without my trusted dark friend. I was yawning while walking, and oozing a morbid aura that erased the smiles and optimism of all of my friends. All eyes were stuck on me and I was clearly to blame for the slow pace maintained by the group.
Just when I thought I was about to be attacked by the group leader for my crippling lethargy, I heard a fierce clap of thunder, and it started raining. A small tent was laid out in a jiffy. While we were resting and praying for the rain to stop, our South American friend Antonio laid out some supplies in front of us, the sight of which was soothing to my eyes. He had brought along supplies that were sufficient for making coffee. Though the setup was crude, the coffee tasted delicious and it hit the right spot in my head. As the rain passed and we started our hike again, everyone saw a different side of me. The coffee had done its job and I was trotting ahead of the group like a champ. From that day onwards, I made it a point to go along on a trail with my own setup for preparing coffee.
My Setup
My setup is that of the traditional coffee drinker. I take along my favorite tablecloth that I can spread on the ground and keep my supplies on. My setup includes 2 cups, a kettle, a coffee filter, and my favorite Davidoff coffee. I have been faithful to this setup and it has provided me with countless hours of effervescent energy that has kept me going for hours without so much as a single, solitary yawn.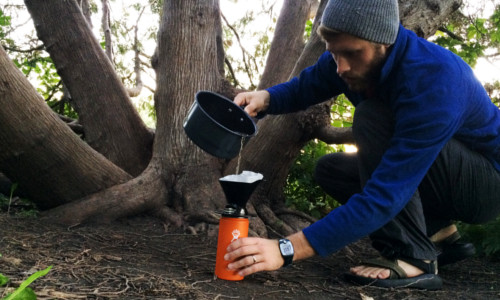 Antonio's Setup
Antonio is from Columbia; however, he is no less than any cowboy in terms of his coffee setup. He likes his coffee strong and gritty. The crude nature of his setup makes it easy to procure and carry on a hike. His coffee is so strong that it can only be drunk by men with complete resistance to bitterness. Girls should stay away from a setup like his.
Roy's Setup
My mate Roy is not someone who likes to prepare well for anything. However, coffee has always been his life saver and he never goes out on a hike without it. When we met through a common friend, I was informed about his love for coffee. And when I first hiked with him, I was amazed at the efficiency that he showed in setting up his stall. It was the fastest coffee brewing and drinking experience I had ever had on a hike. He prepares coffee using Starbucks Vias, and heats it on his tried and tested stove.
My Future Setup
I have always thought about taking an elaborate setup with me that can create the best brews on a hike. Next time, I will be going out armed with premium coffee beans, and my favorite filter and cups. Going out with all the goods and preparing my beloved drink will surely win me the love of all my coffee drinker friends.