Autumn is now here and winter won't be far behind - so we need to begin to think more about staying warm, and one important area which is often forgotten about is our feet and how to keep them warm. But the question remains, which pair are best for you? Well, much like when you choose footwear, the simple answer is, it depends on the kind of trips you're planning and the weather conditions that you expect to face.
Socks can be divided into four basic categories:
Lightweight: These are best suited for warm conditions, and normally feature more wicking and comfort properties over providing warmth. They are obviously thinner and lighter, but still provide cushioning in the appropriate areas.
Midweight: These provide cushioning and insulation for moderate to cold conditions, with many styles having additional padding for those areas which are considered to be high impact, such as the heel and toes. For example, the Bridgedale Men's Merinofusion Trekker Sock would make an ideal choice as it also provides extra padding underfoot and supplies the right mix of warmth and comfort.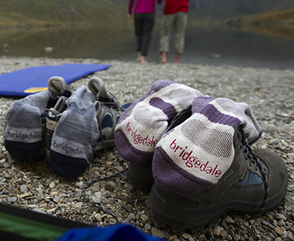 Heavyweight/Mountaineering: These are the thickest, warmest socks that provide the most cushioning. They are designed for long trips, over tough terrain and cold conditions.
So, it's not rocket science, the colder the conditions the thicker the sock, but you still need to think about the material the sock is made from; wool is the most popular natural material to use as it is warm, supplies cushioning and still retains warmth when it is wet. Most manufacturers now use merino wool as it avoids that scratchy, itchy feeling that you get from rag wool. Alternatively, some man-made materials are designed to insulate like wool and also wick moisture, whilst also tending to be that little bit more durable. Ideally you should look for a sock that combines both so that you get the best of both worlds.
So take a look at the full range of socks we have available on the Outdoor Look website and make sure you keep your toes warm and comfortable as the temperatures drop.