If you are a fan of climbing mountains and rocky, hilly terrains, you must be aware of scrambling. For the uninitiated, scrambling is the activity where you have to use your hands to pull yourself up on the hilly vertical terrain. It gives you more support and stability.
Ideally for many people scrambling comes across as a dangerous and scary activity. The thought of a vertical terrain where normal trekking is difficult and where chances of a mishap increase are going to give chills to anyone. However, not all routes are like that. Some routes are less scary than imagined and some routes either require little scrambling or no scrambling at all.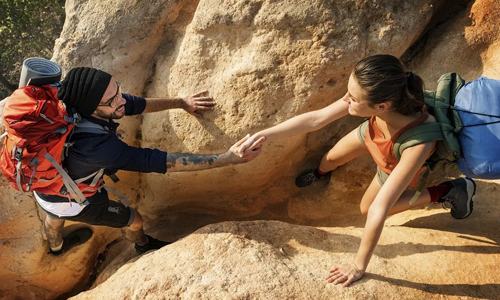 You have to allow yourself to explore these routes by overcoming the fear associated with scrambling. And a good start to this journey would be to enhance your knowledge about various routes in the mountains and get on with the easy ones.
In the UK itself, there are so many hills and mountains that any mountaineer or explorer must have scrambled without even realising it. A route with prolonged scrambling sections involving tedious use of hands is established as a proper scrambling route.
Scrambling in the UK
The United Kingdom has a lot of mountains and hilly terrains. Thus, it gives you a variety of options. The mountains of the UK offer several hiking and scrambling routes. Guide books are available for all the main areas and are something you should read before starting your adventure.
The land also has some scrambling routes that are ideal for beginners. One of them is the Striding Edge in the Lake District, which has some beautiful breath-taking views.
Different Gradings for Scrambling
Scrambling routes in the UK are graded on three levels from 1 to 3, 1 being the easiest and 3 being the toughest.
Grade 1
Grade 1 scrambling is more like a challenging walk. It seldom happens that grade 1 scramble routes will feature prolonged steep and rocky sections. In this scrambling grade, you don't require heavy technical skills and any hiker with little experience and some basic level of fitness can crack the hack.
Grade 2
Grade 2 scrambling is a confusing and tedium level. The distinction between scrambling and rock-climbing overlaps in this grade. At this level, the route is vertical and exposed and needs ropes for added safety in certain areas of the route.
Grade 3
Grade 3 scrambling is the most challenging one. These routes are often found in guide books where they guide you on how to traverse these routes. A good amount of knowledge and information about handling ropes is required at this level. Hence, only skilled, knowledgeable, and experienced mountaineers and hikers should be doing grade 3 scrambling.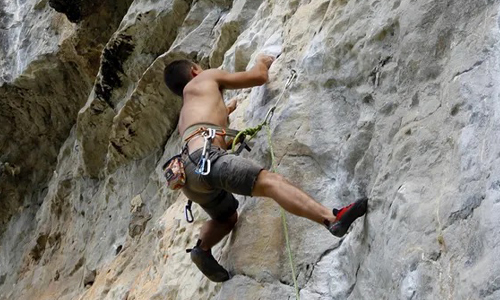 Equipment for Scrambling
Beginner-level scrambling does not require any special tool or equipment besides the general hiking gear. However, with increasing levels of difficulty in grade two and three scrambling, one should have good quality sturdy ropes, helmets, and gloves with a good grip. It should be noted here that a pair of good-quality hiking boots with a reliable grip is a must for any hiking and scrambling activity.