Are you planning a hiking trip with your friends? There are many options to choose from. If you are visiting Scotland, you can try different routes which are accessible to reach the Kilpatrick Hills. You can try out alternate routes rather than the tried-and-tested ones. If you are going out on an adventure with friends, you are sure to enjoy the adventurous hiking trails.
If you love exploring newfound routes and trails, here are a few you can opt for while hiking around the Kilpatrick Hills:
In Search Of Jesus' Thimble
A 14.71 km hike from start to finish, the 'In Search of Jesus' Thimble is a wonderful route you can explore solo or out with your friends. The total ascent is 489 meters with an elevation of 10 -15 km. A one hour twenty minutes walk, it crosses some beautiful places including Cochno Loch and the Jaw Reservoir which provide a mystic view of the mountains.
Wear your hiking gear and make sure to have ample water to keep you hydrated during the walk. With pleasant weather, blue skies and clear blue water, the journey gets better and better.
The Jaw Reservoir circuit
This route can be taken around the Jaw Reservoir with magnificent views of the Cochno Lake. Near to Cochno Hill, it starts from the Edenmill farm shop. With a distance of 13 kilometres, this route has a total ascent of 400 meters. You can take a detour to a waterfall called Auchineden Spout while moving forward and encircling back to Jaw Reservoir.
It has a splendid view of the loch, along with the waterfall. If you are planning on visiting this area, make sure to explore the waterfalls and spend some time near the loch to get mesmerised by the colour of the sky.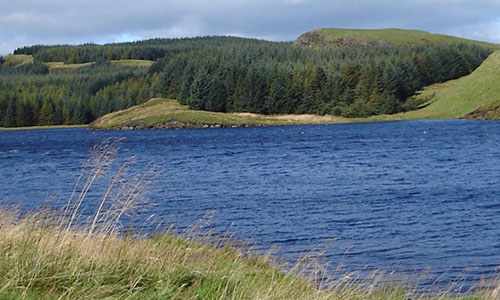 Cochno and Duncolm summits run
A route around the Kilmannan Reservoir and Cochno Loch, the Cochno and Duncolm summits run is a wonderful hike of about 18 kilometres from start to finish. It has a total ascent of around 500 meters. You can start the journey from Jaw Reservoir to Duncolm via Kilmannan Reservoir and return via the Burncrooks Reservoir.
There are beautiful grasslands in and around the route which get covered during winter. It is advisable to wear your hiking gear including hiking shoes, and hiking trousers as the route might get difficult in different places.
In Search of Lucifer's Loch
The trail starts from Mains Estate, in Milngavie and continues via the Clyde Coastal Path. This route also runs through the famous Lucifer's Loch and Black Loch. With a distance of 12.5 kilometres, it has a total ascent of 385 metres. With sun-kissed plateaus and distant valleys, the Lucifer's Loch provides you with a great view of the Loch and green forests which can be seen from the top.
If you are travelling during the winters, it is best to go prepared with your hiking gear and boots. The snow also makes this scenic beauty a must-explore in the list. The clear water meets the beautiful blue sky in the middle, which can be a great view to wake up to while camping nearby.
Planning to visit the Kilpatrick Hills?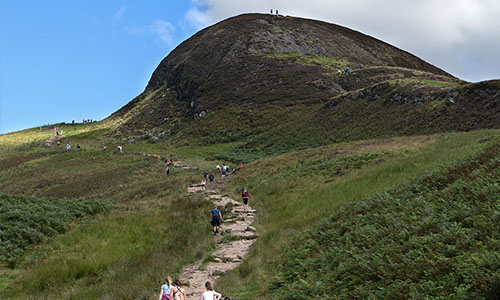 If you want to explore more routes in and around the Kilpatrick Hills, it is best advised to use Google Maps. You can also use the local map and make sure you explore the routes carefully.
Wear the necessary hiking equipment and soak up nature's goodness. If you are travelling with your friends or loved ones, make sure to explore most of the routes and enjoy your time hiking!