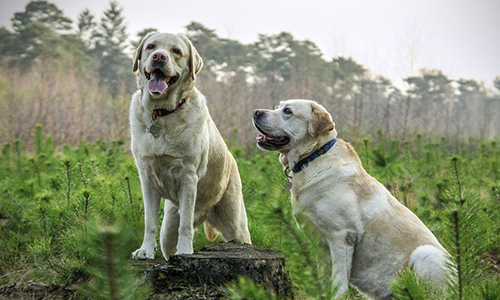 Of all pets, dogs are the most energetic and love to go out. You can tell it by the way their tails wag when it's time for a walk. Whether it is a growing pup or an adult dog, it is crucial that you take your loving pet on a safe and friendly route for the walk, and there is no better location than the Lake District. It is the safest and makes an entertaining place to puddle around for those podgy paws.
Below is the list of 5 pooch-perfect walking routes in the Lake Districts that are based on different breeds of dogs:
Labrador
Starting Point - National Trust Shop
Route – Around Derwent Waters
Distance – 10 miles
Duration -5 hours
Labradors are hyperactive dogs that require a lot of exercising and outdoor adventures lest they tend to fatten. Obesity in Labradors can cause hip and joint problems.
Walking and taking your Lab outdoors for a long walk is a great addition to their exercising routine. And, doing that in the Lake District region is even more fun. The walking trail for your Lab commences at the National Trust Shop. This 10-mile route encircles Derwent Waters, thus will give your pooch some fun places to paddle and vent its energy. You and your dog can also take a boat to return in case the dog is old.
Staffordshire Bull Terrier
Starting point – Noble Knott
Route – Around heavy side trails
Distance – 1.5 miles
Duration – 60-90 minutes
A Bull Terrier is an affectionate, loving dog that is quiet and trustworthy. They make excellent companions at home.
The best curated route for them begins at Noble Knott and goes along the adventurous side trails. This 1.5-mile route walks through varied terrains, steep bends, and uneven grounds. It offers a lot to explore and your Bull Terrier is going to love it.
Border Collie
Route – Silurian way
Distance – 10 miles
Duration – 5 hours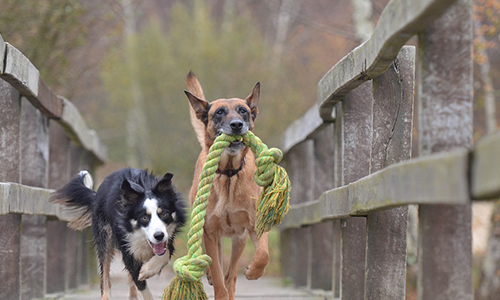 A Border Collie is a herding dog from the Anglo-Scottish border region. This is a tenacious, energetic, and intelligent breed which requires to burn off extra energy. A 10-mile trail through the forest is sure going to get your pet's tail wagging in excitement. The route will bring you both natural scenery, uneven terrain, beautiful sculptures and a lot more to explore on the way.
The natural region of forest will allow your Border Collie to use its intelligence and alertness, thus making the walk even more fun. You will watch its herding skills kick in almost immediately.
Jack Russell Terrier
Route – Around Tarn Hows
Distance – 1.5 miles
Duration – 30-40 minutes
A Jack Russell is a small terrier famous for its origin as a fox hunter. They were bred as hunting dogs until World War II, consequently, these dogs are intelligent, alert, and fearless. This breed of dogs demands a good deal of outdoor exercising, mental simulation and some time off-lead. A 30-minute walk around the Tarn Hows is perfect for this excitable pooch. If you want some more time with your dog, you can extend the walking route by visiting the Monk Coniston Hall.
Dachshund
Starting point – Ridley Hills
Route – Around Allen Banks
Distance – 2.5 miles
Duration – 50 minutes
This hound-type dog breed is lively and playful. These hunting dogs will chase small animals and balls to their heart's content. These energetic dogs are prone to obesity. However, intense workout can cause spinal problems. Thus, walking is the best solution to let out extra energy and ensure they remain healthy.
The 45-50 minutes route along the Allen Banks is a beautiful path to take your Dachshund on a walk. With ancient woodlands and Allen river, this path feels relaxing and calm.