When winter starts, the roads start losing the traffic. The pavements become empty. People stop venturing outside due to the cold weather outside and yours truly gets a chance to take his bike for a fun run. Yes, I enjoy winters as it provides me an opportunity to indulge in my favourite past time. I get a chance to fly through the empty roads without any tension of automobiles coming in my way. If you are an avid cyclist and have not explored the joys of riding solo in winters, take my advice and make time to go outside this time. You will be able to ride while maintaining a good speed due to lack of traffic and won't find much pollution on the road during this time. I have a few tips that you should also look into for an enjoyable time outside in the open on those cold days.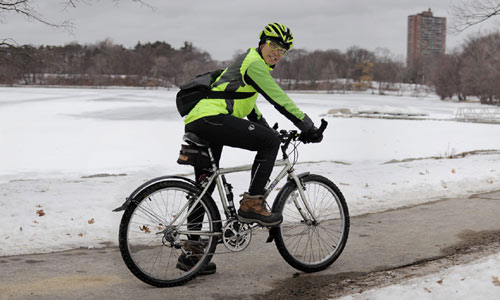 Convertible Jacket
For the cyclists who require a lightweight, highly breathable and versatile cycling jacket, zip off sleeves are perfect as they give you two garments in one. You can rip off the sleeves and turn it into a gilet, if you feel the cold weather is relenting. Try to buy these jackets in rip stock fabric as it is tough but light. Make sure that the jacket has conspicuous colours and reflectors, for easy visibility from a distance.
Padded Cycling Undies
If you have cycled for long, you would have realised that long sessions are hard on the bottom. For a comfortable experience, I highly recommend padded cycling undies. These undergarments will go a long way in making you sit easily on the bicycle seat; I am telling you this from my personal experience.
Cycling Tights with Knee Warmers
Joints in the body can get affected by the cold conditions. Knee joints are the most used part of the body while cycling. It becomes highly necessary for you to take proper care of these joints by wearing cycling tights with knee warmers. Prepare yourself correctly by protecting your body from the harmful effects of the cold weather. Proper precautions like wearing knee warmers will let you stay healthy and make you come back to this worthwhile activity every winter.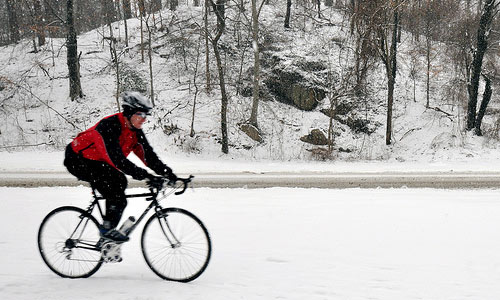 Skullcap
Helmets are necessary for riding bike as they offer protection to the head. But if you feel the need of taking them off, make sure that you are wearing a hat underneath. Skullcaps are a fun way to keep yourself safe from the cold if you are someone who constantly takes their helmet off during a bike ride. These hats will not only protect you from cold but will also add to your look, making you appear great in that selfie you will take after a long ride.
Conditions
It is great to ride in winter for solo fun, but a quick check on conditions is also required for a comfortable experience. I advise that you don't ride when the temperature falls under thirty-five degrees Fahrenheit or when the wind speed is faster than 15 mph.
Winter may seem like a dicey time to ride bike for some people, but if prepared correctly, you will be able to fight the elements and have a comfortable ride and an enjoyable time.