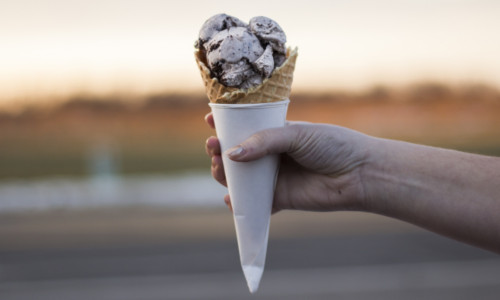 A hammock in the shade and a double scoop of well frozen and freshly churned ice cream is what I look forward to on all my Sunday afternoon. This gets even better when you have verdant fields surrounding you with the river flowing by and the sounds of the wilderness lingering in the air. Camping in the backcountry also works for me.
Here is where the challenge creeps in. All I wanted to do was, take some good amount of delicious frozen ice cream for myself. Unfortunately, there wasn't a cooler or even a portable fridge that would make this pack of ice cream to be all freezer-frozen for me.
That's when my search for reusable travel mugs began. I have loads of these kept in my kitchen. These insulated mugs claim to keep your ice creams intact, i.e. keeping contents cold for long hours or even days.
I wanted to test these and so I took along one of these insulated mugs on one of my excursions to the back country. The fear of failure did not discourage me from taking this with me. My friend Alfred and his kids gave me good company on my trip.
I went along with them on a 40 minute car drive, packing my chocolate chip ice cream in a 12 ounce bottle. I could not contain my excitement and instead of wanting to tie my hammock, I went straight to unpack my bag to unravel the mystery to all. I was alarmed to find the ice cream just as firm as it could be. I exchanged glances with the kids, who were ready to chortle at my desperate attempt of proving my point. However, the kids had a major fun time, digging into some good scoops of ice cream with their dad, thanking me later and commending me on my out-of-the-blue experiment.
Always having a knack for experimenting and having an incomparable love for science, I dedicated my long hours to figure out the appliances that are capable of providing some instantaneous solutions to my attempt on frozen-ice-cream-hacks.
My distant cousin once wrote something about his experience on a hike. It struck me one afternoon that I could take my experimentation to another level by going for a trail with an insulated bottle full of ice-cream.
I packed my bags for an ice-cream filled adventure. My cousin Henry accompanied me on this trail, as he was well acquainted with the minute details of what it was to go on a hike. I took along a heavy insulated bottle that proved to be the most reliable one during my experiments.
We trekked for long miles and stopped in the middle for short breaks. I was getting so impatient in that August weather that it took me a lot of controlling to not to open up the bottle to check its contents.
It was only after dinner that I opened up this bottle. I found the moose tracks a little soupy and melted; however, on further digging my spoon, I found it was impossible for the spoon to dig further. It was such solid frozen chocolate chip dough, that it bent my titanium spoon.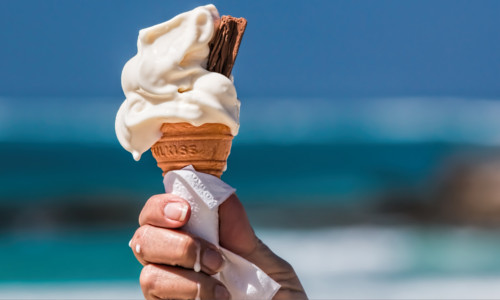 Miles away from the freezer, yet intact, this ice cream was finally served.
We could not finish it completely and I wondered if it was possible that the leftover ice cream would remain cold enough during the night. We stopped for snacks in the morning, about halfway to the trail head. To my amazement the ice cream was still frozen. It was pure delight to have some cold ice cream, when both of us were drenched in sweat and hungry to the hilt. Winning never felt so good!
Though it took a lot of experimenting, I seriously learned the art of having some good frozen ice cream.
The Magical Trick
Now, here is the trick for you all! Just keep your empty bottles in the freezer before filling them with ice creams. There are brands which ask you to avoid freezing the bottles containing liquids, as it causes bulging. So do read the guidelines before engaging into any kind of experimentation.
Another fact to be considered is that ice creams containing low sugar and fat content freeze better than the ones with more sugar. I personally am in love with these insulated mugs. For the hotter, longer, and overnight trips and treks, always opt for these Insulated mugs. They are simply must-haves!