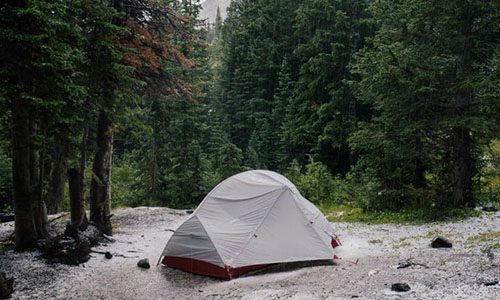 Worried about camping during the rains? This may bring a lot of questions in your mind, but sit back and relax because here is a detailed guide including all the tips, tricks and hacks you can follow to make your rain camping an enjoyable experience without getting interrupted. All you need to do is be prepared for it in advance.
Finding the Correct Campsite Location
First and foremost task is to choose a location that is ideal for rain camping. You should prefer high ground areas where run-off does not get collected and are surrounded by trees and bushes so that you can suspend your tarps to them. Low areas and valleys must be strictly avoided.
Creating Shelter with Tarps and Paracord
For building a shelter where you can cook a meal, relax and enjoy all you need is a trap, trees and a roll of paracord. A lightweight trap is a must have as it allows you to create a shelter to hide during heavy rains. Trap can also be used above your tent to protect it from getting wet while you are setting up your tent.
Setting up campfire While it is Raining
Setting up a campfire with wet fuel and wood is a really difficult task and requires a lot of effort. The essential things you need to create a campfire are tinder – which catches fire quickly and easily, ignition – for giving a start to the fire, fuel wood – to keep your fire going and kindling – small fuel that will burn for long.
Drying the Travel Gears if They Get Wet
During uncertain situations if your clothes and gear get wet, then comes the need to dry them out. You can do so by hanging them under the trap shelter and let them dry overnight. Another way may be to light a campfire and let your stuff dry out due to the heat from the fire. A few other techniques may include drying by hanging inside the tent.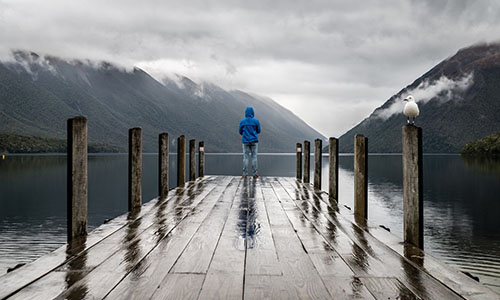 Camping Clothes for Staying Dry
Rains may come unexpectedly, especially when you are not around your tent. In such situations clothes that will keep you dry are most important. To stay comfortable and warm you must stay dry. Varieties of top layers are available and you just have to choose the right one for you depending on the climate. The best investment will be to get a breathable and waterproof jacket that is durable too.
Choosing the Appropriate Base Layers
In order to save yourself from life-threatening conditions, you have to stay dry. You must carry clothes that are warm and wicks moisture effectively. Cotton is the worst choice in such case. Fleece, wool and polypropylene are good options as they are light and will continue to keep you dry even when wet by wicking moisture. But the real hero is merino wool. Merino wool will feel soft and warm without being uncomfortable and itchy. With its anti-odour properties you will feel fresh the entire day.
Essential Gears for Rain Camping
Here is a list of few important gears you must have for camping in the rain. You can quickly go through this list and be assured.
- Wicking base layer
- Waterproof coat and pant set
- Waterproof gators and boots
- Role of paracord
- Spare tent stakes
- Plastic trap shelter
- Knife
- Waterproof tinder and match boxes
- Camping hatchet
- Waterproof backpack and stuff sack
With these tips and tricks, rain camping will never be a topic of worry for you. This will boost your confidence to pack your bags and leave for camping even if it is raining and return with lots of good memories.