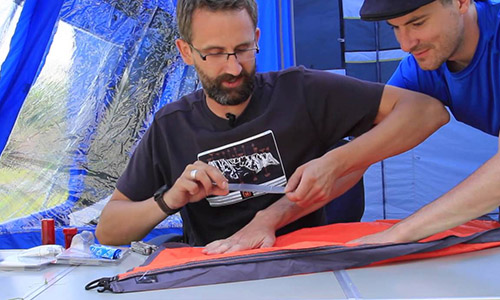 When you plan to venture in a camping spree, you seldom ponder upon the mishaps that may happen during the journey. You spend pennies on irrelevant things, but don't give a second thought to the thing that may actually become your saviour during your trip. A toolkit will act like your knight in shining armour. It comes pretty handy no matter if you're up for a camping spree, hiking trip or even when you're working in your own garage.
The importance of having a toolkit
What if you're miles away from home, and your engine dies? The wheels are punctured? The bonfire starts flickering in windy conditions? Or even worse your tent rips off? Where will you head to with that shiny magic card of yours? At those times, a toolkit will help you when something suddenly rips, leaks, snaps, or punctures. The toolkit mostly has essentials that can help you fix any mishap away from home.
Here's a list of a few must haves in your tool kit.
A sturdy box or bag to hold your tools
The most important thing while making a tool kit is a sturdy and strong bag in a box that can easily hold your tools without breaking or tearing. It doesn't need to be too heavy because you may need to carry it sometimes but ensure that it's durable. If you're up for vehicle camping, you can opt for a toolbox that can fit in your car, but if you're in for hiking, it may be a good idea to opt for durable pouch or bag. The toolbox need not be too big or space consuming, because you will need to adjust your other belongings for your trip too. Once you decide the type of box you want to choose, next comes the must have consumables for your toolkit.
A duct tape and strong holding adhesive
A duct tape and a strong holding adhesive come handy when something snaps and you need to join it quickly. Duct tapes can be easily used for situations like a ripped tent or broken satchels. Topped with a leather, wood and metal sticking adhesive, it will work like a pro.
Repair Buckle Spares
This may not come into your mind as important, but if you're on a trip, it is important. While walking on a trek, or in the woods, any misstep can cause the buckles of your bag to break. Keeping a spare buckle in your tool kit in such times will actually turn out to be a blessing.
Stove servicing kit
Believe it or not, any part of that stove that goes missing or breaks can bring your lunch to a halt. Therefore, you must be equipped with spare knobs, gas hose, adaptors or O-rings for emergency purposes.
Tent pole splint and pegs
If you're familiar with camping woes, you will be knowing the pain of a broken, misplaced tent peg or a damaged tent pole. In such situations, keeping a spare doesn't go to waste. Keep a sleeve handy for damaged tent poles and few lightweight alloy pegs to help you replace the misplaced peg.
Butane gun and extra matches
Matches come in handy in normal situations, but to ensure that they're not finished too soon, keep one or two in your toolkit to use in the case of an emergency. But in case you're trapped in adverse situations like wet or windy climate where a match doesn't work, a butane gun will be your saviour.
A mallet, shovel and hatchet
While a mallet can work wonders with the tent pegs, a shovel can also help in clearing up spaces and digging up coals for the fire. You can even replace a mallet with a tri-fold shovel, but both of them are must haves in your tool kit. Another tool that you may like to have is a hatchet. It's not critical, but very useful in the dreaded fire season. It wonderfully helps in clearing vegetation at the campsite and you can also use it for fixing tent pegs as a hammer.
Torch and extra batteries
The usefulness of a torch is well known. It will help you in darkness, in scary trails and paths. Keeping several batteries in your tool kit will come in handy if you ever have to change them at a short notice and you are nowhere near human settlement to purchase one.
Cable ties
Just like the dependable duct tape, this will help you in re-attaching, holding broken straps together, mending broken hooks and also in organising cables.
Sewing kit
A sewing kit will help you in times when your duct tape won't. Be it that favourite trouser whose seam gave way or that button that popped open; a sewing kit will let you give up your worries.