Winter has finally arrived and one of the most amazing times to hike and walk has come. The cold wind and the winter sun hits your skin and you feel great. But with it comes the right type of winter clothes to wear during your hike or walk. It is important to keep yourself warm during your winter walks and hikes. It is quite simple and easy to find the right type of equipment.
Here is a list of winter clothes to keep you warm during the hiking, walking, or trail running session:
Plan Well Before the Trip
It is important to plan the trip out before you start with the preparations. It is better if you take the amount of clothing you require and not pile up over the essential items. You are also carrying a lot of other essentials in your backpack and it would be best to keep the weight at a minimum.
Outer Layers
It is important to invest in a good quality outer layer as it makes the water to soak through other layers and keeps you warm. You can opt for a GORE-TEX material which is breathable in nature and keeps you warm at all times. It also helps you with the moisture-wicking process, keeping you dry. It ensures that the moisture isn't trapped between layers.
Ways to Layer
There are various ways to layer your clothing. You can either combine the mid and outer layer in one base or outer layer or can separate your clothing as base, mid, and outer layer to keep your options open when there is a change in the weather.
You can also opt for a base layer bottom-wear, such as 'tights' which would keep you warm under the walking trousers. It helps you layer light and does the job well.
If you get extremely cold in the chilly weather, it is always recommended to keep an extra pair of gloves, which might come handy. You can also opt for other accessories such as a beanie and woollen caps which can keep you warm in the cold-chilly weather.
Base Layers
Base layers are as important as the outer layer as it traps the air inside and keeps it breathable and warm. Base layers are made of stretchy fabrics, sometimes a body-hugging material to keep it breathable. A T-shirt is not recommended to be worn as a base layer as it will retain the moisture and make you cold.
Mid Layers
Mid layers, as the name suggests are worn underneath the outer layer and over the base layer. They are made of soft-shell fabric which wicks away moisture very easily. During a mildly cold day, it can be worn as an outer layer.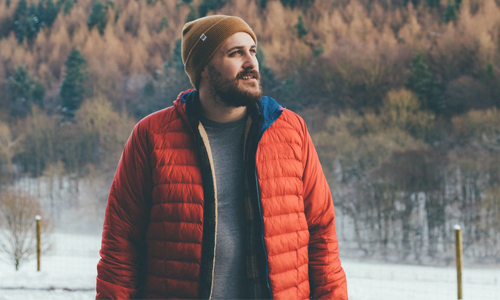 Footwear
Along with the clothing, it is important to make sure you have your footwear ready to keep your feet away from frostbite. You can opt for walking and hiking boots if you are planning to go for a long hiking or walking journey. There are boots and shoes which are waterproof and come with a padded footbed and a sturdy upper to keep you going. These waterproof shoes and/or boots keep you protected and dry all the time.
You can also consider gaiters and a good quality pair of socks to keep you going, even when there is a change in the weather.
Getting Ready For Your Next Hiking Trip?
Get ready for you next hiking trip with the essentials including base layer, outer layer, and mid-layer clothing as well as sturdy, waterproof and breathable footwear. Take a first-aid kit for an emergency and not to forget, your camping equipment and gear. Have a great time hiking solo or with your loved ones!