If you're planning on going skiing over the ski season, then you'll need to be fully equipped. Our full range of ski trousers for men, ladies and children are now available!
For men, we have a choice of ten products from three different brands – Dare 2b, Quiksilver and Marmot. The Dare 2b Men's 'Stand In Awe' trousers are the most striking style that we currently have available, due to their colours of Mosaic Blue and Trek Green, as opposed to the usual black. Besides the colour, this pair have durable, water repellent taped seams and reinforced hem binding, along with elasticated waist adjusters and a number of pockets – both zipped and non-zipped.
The downside of the 'Stand In Awe' trousers is that they are not fully waterproof, unlike our next pair, the 'Stand Firm' trousers – also from Dare 2b. This pair uses both waterproof and breathable Ared V02 20000 polyester and also contains an ergonomic shaped waistband made from EVA foam to aid back protection. The 'Certify' and 'Apprise' styles share many of the same properties, but are available at lower prices.
We have fourteen different styles for ladies, with our best seller being the Trespass 'Jaylo' style. These trousers offer both protection and space, as they are both waterproof and breathable and have four zipped pockets. Other features include a front fly opening, ankle gaiters and rubber kick patches. What differentiates them most from the other available ski trousers are the detachable braces and back bib, which provides you with the option to adjust the fitting and the style.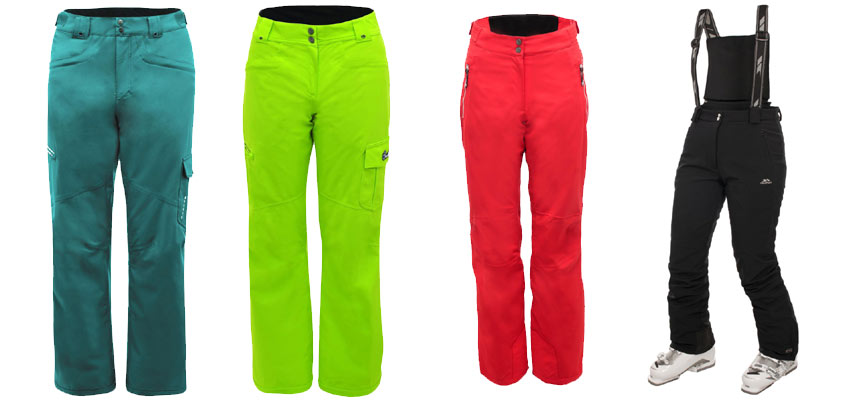 The next best sellers are the 'Epitomize' and 'Chase Down' styles from Dare 2b, which are available in the colours of 'Seville Red' and 'Lime Green' which definitely stand out! The 'Epitomize' ski trousers are waterproof and breathable and use Ared V02 20000 polyester 4-way stretch fabric. They also possess a stretch lining to the upper legs. Unlike the previous two pairs, the 'Chase Down' are not waterproof and breathable, but are instead water resistant. Both pairs however, have an elasticated waist, snow gaiters, taped seams and multiple pockets.
As well as stocking ski trousers for adults, we also have a range for children, with eight items for boys and twelve for girls.
For boys, one of our most popular pairs are the Dare 2b 'Take On' trousers, available in either Freshwater Blue or Fairway Green. This pair are durable and water repellent and possess all of the features that you would expect / hope for. Warm touch lining to the upper legs, detachable braces, elasticated waist, snow gaiters and reinforced binding at the hem – all included.
The Dare 2b 'Whirlwind' ski trousers for girls shares a number of similarities with its male counterpart. Detachable braces, pockets, elasticated waist (partly), snow gaiters and reinforced binding at the hem. This pair are also lined with polyester and are water repellent. This style are available in either white, performance purple or electric pink.
All of our ski trousers are available now at discounted prices – just in time for winter and the new ski season! Make sure to check out our full range of ski clothing to ensure that you're fully kitted out. Orders over the cost of £50 receive free shipping. If you have any questions, please do leave a comment below or message us on Facebook or Twitter!