Comfort: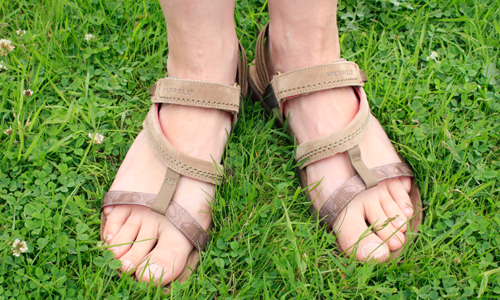 I was actually a little wary of moving back into wearing sandals as in the past too many high street fashion sandals of varying types have removed various bits of skin from various parts of my feet.
I needn't have worried. These are very comfortable. The footbed is shaped so that my arch is supported and as they are a great fit to my feet, my toes and heels are entirely supported as well.
There is only one adjustable strap and that is the highest strap on the top of the foot. The other straps are non adjustable, which perplexed me at first because I am used to fitting walking shoes decently close to my foot in order to stop them flapping about or sliding off or causing blisters.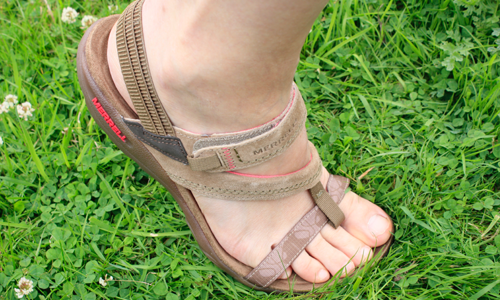 After a few days of wearing them I realised that I needed to consider them as a sling back sandal, just moving the heel strap out of the way to put them on and take them off. The heel strap is decently wide, being three separate widths of elastic overlaid and with a neat stitched area at the rear to hold them together.
I haven't been long distance walking in them yet, as for the entire week I've had them the weather has been rather sodden and even in June I'm not yet willing to embrace hiking with wet feet unless I truly must. They have not caused a single discomfort in the extended time that I've been ambling about in them on pavements and in the house.
Sizing:
I chose these sandals according to my EU foot size (41) as past experience has taught me this is a better estimator of fit than going by my UK size alone (7, but sometimes 7.5 depending on brand). The Merrell equivalent of EU 41 is actually a UK size 8 - but they are an absolute perfect fit for me. I'd recommend knowing and using your EU foot size to order Merrell footwear unless you're able to go and try on first.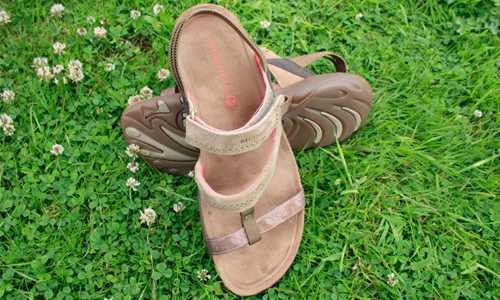 What worked well:
These sandals are extraordinarily comfortable. I will never wear high street sandals again. It's walking sandals all the way from here on in.
What could have been better: The weather.
What I like best: The snug way the footbed supports my entire foot from heel to toe.
Stars (out of 5): 5