Hacks are not restricted to the world of computing. The world of camping has its own hacks, the knowledge of which can go a long way in making your camping trip smooth and a lot of fun. While you are far away from your daily city life, you need as much help as you can get for surviving in the wild. Resources play a pivotal role in making your adventure convenient; however, you may not be able to pack up all that you need before going out. In certain circumstances, you need to improvise and come up with intelligent solutions to fulfil all your needs. Using hacks which are prevalent amongst experienced campers can make your camping trip comfortable and relaxing.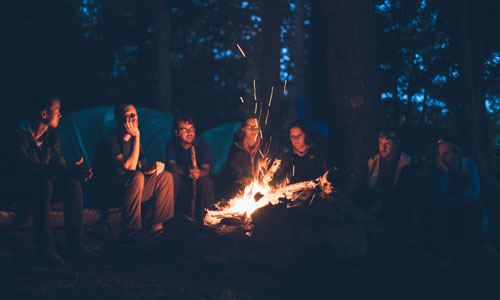 1. Acorn cap as a whistle for SOS calls
While away in search of precious firewood, you can easily lose the track of time and get lost in the wild. Keeping a whistle is recommended for every camper but if you are not armed with one, you can use an Acorn Cap as your whistle. With its loud sound, this makeshift whistle works almost as well as the real thing. The sound made with this whistle is loud enough for alerting and informing everyone in vicinity about your location.
2. Repel pesky mosquitoes and bugs with sage
Sage is a plant which is easily found near most campsites. This plant can be burned in the campfire for warding off irritating mosquitoes and bugs. Its smell acts a great deterrent for the pesky pests and lets you sleep in peace. Besides protecting you from bugs, the smell created by burning sage vitalises your spirit, and rejuvenates your mind and body. Conveniently enough, it also mitigates any foul smell in the vicinity of your camp.
3. Use jars to create lamps
If you are planning to stay awake for most of the night, you need proper illumination when it gets dark. Instead of carrying bulky lamps, a camper can make use of jars and solar disks for lighting up the darkness. These makeshift lamps are also known as solar camp lanterns amongst veteran campers.
4. Wrap duct tape around your water bottle
By wrapping it around your water bottle, you can make your duct tape easily accessible. As your backpack may already be heavy and not have enough space for the tape, wrapping it around will make it convenient to carry and easy to use in an emergency.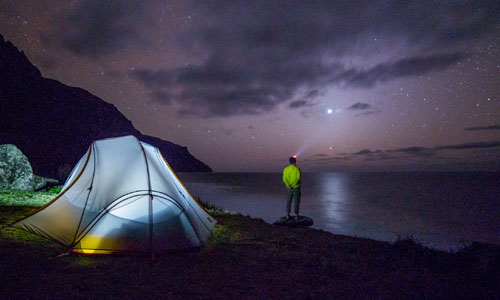 5. Sandpaper for lighting fire
If your matchbox has gotten wet and you still have a few matches handy, you can use sandpaper for lighting the matches. This hack is more useful than it sounds, as campers often find themselves in situations where their gear gets wet, rendering most supplies useless.
6. Make a spoon out of a plastic bottles
If you have run out of spoons on your camping trip, you can make a spoon out of a plastic bottle. All you need is a knife to cut out a plastic shaped spoon from the bottle.
7. Use plastic bottles to carry up to 8 eggs
Eggs have high nutritional content and act as great sources of protein and minerals. Carrying raw eggs on a camping trip is not easy as they can break quite easily, but by using a plastic bottle as an egg container, you can make sure that your prized food assets are safe and secure. Just break them and pour the liquid into the bottle. You can store as many as 8 eggs in the bottle. and keep them for future use.