When you're organising your layering system, you need to ensure that you wear suitable clothing, that does not weigh you down. When you begin you may think to yourself that you could do with another layer, but give it some time and you'll likely be much warmer (and quite possibly – a bit sweaty!) It's best to wear as few layers as you can manage – and remember that you can add or remove a layer if you need to!
Make sure to wear baselayers which are made from a synthetic material such as merino wool – not cotton. Cotton is comfy, but unfortunately it does not dry quickly or wick away moisture – it actually absorbs it, making them rather uncomfortable! The same rule applies for socks, one pair of woollen socks is superior to multiple cotton socks – and will allow you to get well-fitting boots too!
Don't forget to protect the parts of your body that are not shielded by your layering system, such as your hands, head, face and neck. Options such as gloves, mitts, balaclavas, beanies, scarves and neck warmers are all relatively inexpensive items that will benefit you hugely.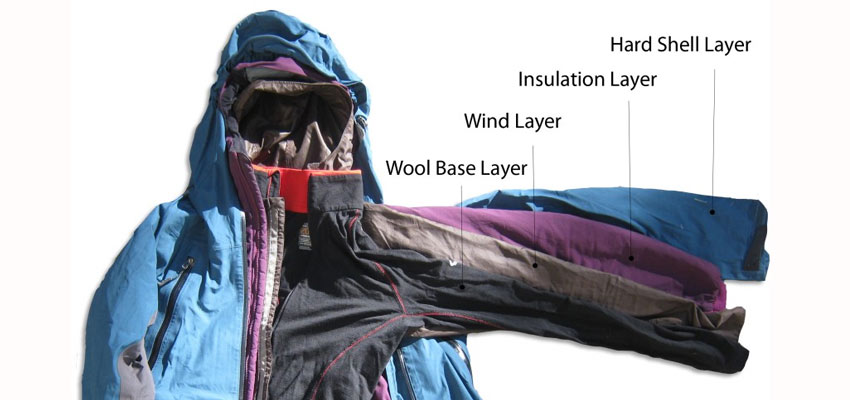 A layering system works much better than wearing a couple of larger layers, as it offers you a lot more flexibility to adjust depending on the temperature. If you are beginning to overheat a little when wearing a large jacket over a t-shirt or jumper, you may be tempted to remove it but unfortunately you'll probably be too cold if you choose to do that! Wearing multiple layers allows you to add or remove layers without drastically affecting your temperature.
When you're preparing all of your gear and perfecting your layering system, don't forget that you need to shield your feet, because wet feet – maybe more than anything else – could really ruin your day. Make sure that you equip yourself with boots that are waterproof!
For everything that you'll need to tackle the winter weather, visit our website now to find great items at low prices. Orders over the cost of £50 receive free shipping. If you have any questions, please do leave a comment below or message us on Facebook or Twitter!