At this time of year, we're prone to experiencing some rather unpredictable weather conditions. To help, carrying items which contain a variety of product features will definitely help.
Versatility.
It's not impossible that on a single day, it can be dry, wet, warm and cold. If you're enjoying a day hike or you've gone camping, you could get caught in all of these.
Convertible items provide us with the ability to wear items in a couple of different ways. Some running and cycling jackets allow the arms to be removed, but the most common one are trousers and shorts. The ability to zip off the lower part of your trousers to create shorts and vice versa allows you to control your temperature much more effectively.
Some items cannot be changed at all, but their effect can change based on what you wear it with. Moisture wicking baselayers are a good example. When worn as part of a layering system, they can help to keep you warm but when worn separately can keep you cool.
Jackets, in particular, features elements which are designed to keep you warm. Some have thumbhole cuffs, but many have hoods. Both of these can be used to prevent your body heat from escaping and can easily be ignored or removed.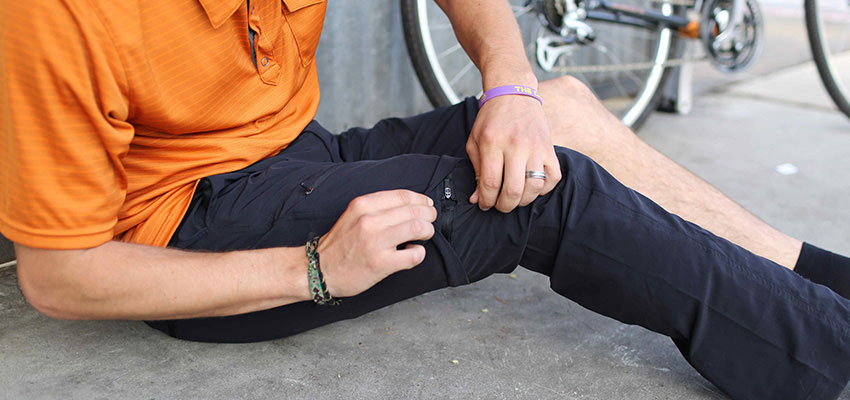 Packability.
Ideally, when you're hiking or camping, you want to bring as few clothing items as possible. But if you do need to bring quite a few items, being packable is a big benefit.
A common misconception is that bulkier items keep you warmer than those that are not. This is not always the case and there are items which are lightweight which will provide a greater benefit and be much easier to pack – such as baselayers.
Some jackets can be packed into their own pockets, whilst others come with stuff sacks that they can be stored inside. Down jackets are perhaps the easiest jackets to store, as they can be rolled or folded into a small size.
Protection.
With the weather being unpredictable, that often means that we'll see rain. To shield you from this, waterproof items are very effective. You can get waterproof items for each part of your body – jackets, trousers, shoes – so that you are fully protected. Items which are waterproof as opposed to water resistant offer a greater amount of protection and if they are sealed at the seams it further reduces the chances of any escaped water leaking through the garment.
With temperatures rising over the spring and summer months, the number of insects and bugs such as flies and mosquitoes rise exponentially. There are garments which include insect repellent technology, designed to keep them away.
If we're out in the sun for a large period of time, wearing any items that have an Ultraviolet Protection Factor rating will offer protection from the sun's potentially damaging rays.
All of these factors will help you to bring as few items as possible, which are effective and keep you protected in various conditions. A lack of over-packing or over-buying is always a good thing!
To check out our entire range of products visit our website now where all of our items are available at discounted prices. Orders over the cost of £50 receive free shipping. If you have any questions, please do leave a comment below or message us on Facebook or Twitter!