Given our never-ending job, the whole hectic-schedule charade, it's hard to find time for ourselves, even if it's just for sleeping. Being a White-Collar or Blue-Collar employee may sound cool and all but the struggle is real. At the end of the week, it just makes me want to go. And what better way to shed all the stress than to take a Micro-Adventure every now and then. It helps you rejuvenate and replenish.
You may be wondering what a micro adventure is!
Well, it is something to be done on the spot and is quite popular among the risk-takers. It's a simple logic, when you feel too tired, you challenge yourself and take an overnight micro adventure in the wild. The challenge can be something like cycling, walking, running, swimming or something to reach your destination, spend a night of relaxation and stargazing and get back to your job the next morning.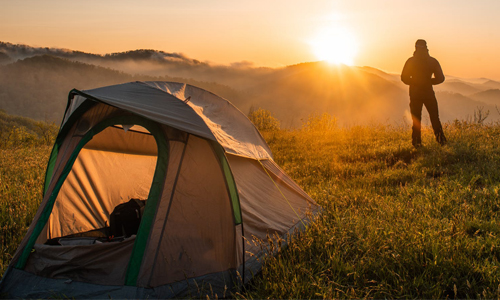 I know it sounds fun but planning is the key to all great adventures. So, here are some basic tips to follow for your first micro-adventure.
Get the Gear Right
Gear doesn't only mean tent, stakes and what not. It means the right equipment to carry, like a safety whistle, a first aid kit, some general allergy prescriptions, necessary toiletries like toothpaste, toilet paper etc, matches or a lighter for a mini campfire, a diary or notepad, a book to read maybe and a selfie stick. I know I need one every time I leave the house.
Pack Enough Food for Two
Well, three if you have a great appetite like mine. Pack your meals carefully, try to put in as much as dry snacks and cereal bars possible. Who doesn't like warm, fresh-cooked food? But, depending on the type of adventure we are looking at, carrying a stove or heating pan might be too much. However, make sure you pack enough water to avoid getting dehydrated, 3-4 litres would be enough I guess if you are alone.
Pre-Plan the Sleep Time
Given the unpredictable weather of UK, I suggest you buy a 3-season sleeping bag that is great all year round and it's just a one-time investment. I myself have one of those. Of course, add a sleeping mat to the list.
You Need to Dress Right
Dressing right means maintaining visibility, wear bright coloured clothes so you are easy to spot and given the weather situation, it is always best to keep an extra set of clothes, warm layers, waterproofs or raincoats, maybe a thermal blanket, and last but not the least, a cap or a beanie.
Travel Light to Avoid Getting Tired
For travelling light, you have to make sure that you carry the lightest and smallest equipment, which would require about a 35-litre rucksack. However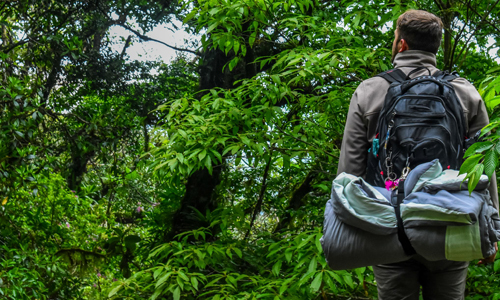 , if you increase the baggage, you would have to carry one with a 45-60 litre capacity which is not good. Heavy baggage equals tired before time equals cannot enjoy the landscape.
As for a closing tip, if you still have space left, you might just want to go crazy and pack up some luxuries with you like a pillow or scotch, maybe even tequila. Go nuts! Have fun and stay safe.