First of all, who are new to this adventurous activity, let me give you a cursory look at a simple definition of this winter sport. Well, it is a form of hiking that includes walking over the layer of white cottony snow with the assistance of special and traditional snowshoes.
So, if you've planned to head to those mighty mountains for your first snowshoeing – Congratulations, I am sure you're going to have a killer time out there. Or maybe should improvise my wishes and say I am sure you're going to have a killer time, if you go fully prepared.
Snowshoers should understand that they cannot become adept in this winter sport just by learning some skills, but also have to bring a few essentials in their pack to make the journey more enjoyable.
Don't fret, if you're not aware of those essentials. Help is here. Just continue reading and in hardly 5-7 minutes, you'll have the list handy. Let's begin.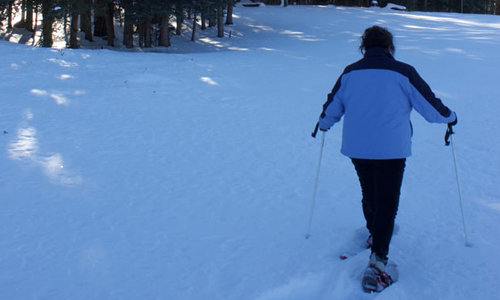 Ask Yourself- What Should I Wear?
If you have no idea, let me tell you snowshoeing in aerobic activity and dressing in layers would be a wise decision for changing weather conditions.
Base Layers: This layer remains the closest to your skin and helps your body stay warm. You can carry a pair of pants used for outdoor winter hiking and a long-sleeve fitted shirt as an upper.
Insulating Layer: This layer of clothes can be taken on and off according to your body's temperature right then. Usually, there's no such need of this layer on the legs, but keeping a pair of sweatpants in the pack would be a great idea. For the upper, you can put on a fleece sweater or a sweatshirt.
Outer Layer: This layer will include pants and jackets that you'll require if it is raining or snowing.
Appropriate Material: I know it sounds a little off-topic, but picking the right material is generally forgotten while buying any piece of clothing. The best materials for this intense activity will be wool, silk, and synthetic material such as polyester, nylon, and blend. These materials are incredible is keeping the sweat away from the body, will keep you warm and cosy during chilly climate, and are breathable, of course.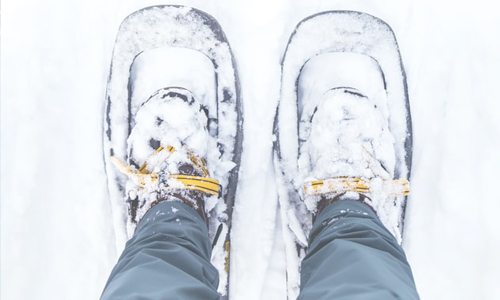 A Quality Pair of Snowshoes Can Do the Job
This thing goes without saying that snowshoes are undoubtedly the most crucial gear you cannot go without. Snowshoes should be both insulated and waterproof that should have rubber or leather uppers and thick soles, therefore require a little special attention while buying. Waterproof boots with leather uppers can do an excellent job.
And in case, you don't own snowshoes, you can always rent them, as I did initially, when started off this amazing activity.
Make sure you pick the shoes according to the terrain you'll heading for – rolling, mountain, or flat. Boots made for flat terrain can help with the majority of your requirements.
Secondly, the way your shoes are tapered decides whether they are for men or women.
Length of your shoes will be based on your weight. Do the calculation right and select the right pair.
Shoes with poles are a great choice that will help in balancing and let you walk through the snow, hard ice, or hills.
Additional Accessories
Besides these two important considerations, hats and gloves for the head and hands respectively are necessary. Invest in the products made from synthetics or wool will work the best way. Your gloves should be waterproof, so to keep the hands dry and warm. Other than these accessories, a sunscreen, sunglasses, first-aid kit, lights, a small pack of snacks, and a water bottle will help you keep going safely and easily.
Final Words
Now, that you know the different layers to be worn, how to get the quality snowshoes, and other accessories, it's time to head out for this thrilling and exciting journey. Remember, your safety is in your hands only. So, make sure you're paying extra attention to it.
Happy Snowshoeing and don't forget to let us know if these pointers were of any help.