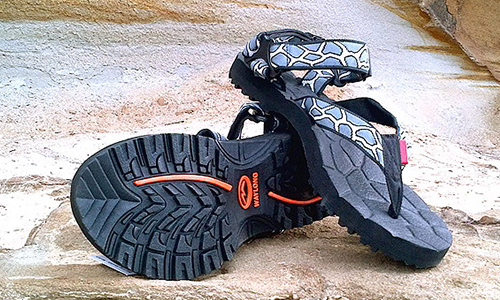 Hiking is fun. You get to see hills, mountains, rivers, etc. If you're planning to go hiking in summer, you might want to exchange those conventional boots for hiking sandals. The sandals are popular as these are comfortable and lightweight.
Things to be Kept in Mind Before You Buy:
Choosing the right pair of sandals is the most important thing. Always keep your hiking needs in mind before buying sandals.
The Toe, Open or Closed?
Choose the pair that is close-toed as it'd protect you from pebbles, rocks, and debris. You might end up injuring your toes if you wear open-toed sandals while making your way through rocky terrains.
What Kind of Support do You Need
There are brands that offer good arch support. You just need to know exactly what your feet need. You don't want your feet to feel uncomfortable on a treacherous trail.
Shock Resistance
Having shoes that are shock-resistant would mean that you'd easily be able to bear each and every shock the trail has in store for you. It is advisable to buy the ones having foam midsoles.
The Sole
A thick sole would ensure that the pebbles on your way do not make you feel uncomfortable.
Some Features of an Ideal Pair of Women's Sandals
Rubberized toe guards to protect the feet
Sandals should dry quickly
Shouldn't get slippery when wet
Should be easy to expand and tighten
Should have comfortable and shock-absorbing foot beds
Should have excellent sole grip on paths with loose gravel
Lightweight and comfortable
Some Features of an Ideal Pair of Men's Sandals
Footbed should be comfortable for undertaking long hikes
Should dry quickly
A sole with excellent grip would come in handy on difficult trails
Toe guards should be present to prevent injuries
Hiking Sandals for Wide Feet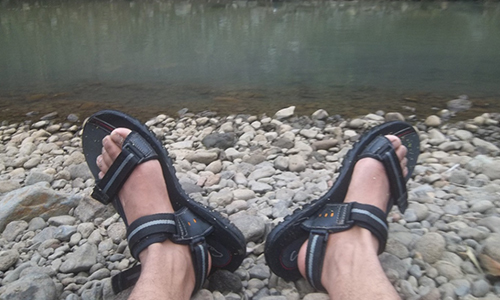 If your feet are wide, finding an ideal pair of sandals gets just a bit tricky. In case your feet are wide, search for sandals which possess the following features.
Some Striking Features
A comfortable footbed
It goes without saying that the sandal should be lightweight
Dries quickly
The grip should be as good as those of hiking boots
The arch support should be good
The width should be more than usual
Hiking Sandals for Narrow Feet
Frankly, there aren't many companies that make sandals exclusively to cater to people with narrow feet, but you'd be able to find a few options after you've visited a few stores.
Some striking Features
Should have narrow footbeds with medium width
Shock absorption is a must
Sandals with straps would be easy to wear
Should dry quickly when wet
Hiking Sandals for Toddlers
You don't want your little ones to feel uncomfortable while undertaking a hike. You need to make sure that a toddler's pair of sandals comes equipped with the following features.
Tough and hard-wearing
Sandals with Velcro straps would be easy to wear
Should dry quickly in case they get wet
Should have comfortable footbeds
Toe guards made of rubber to prevent injuries
For girls as well as boys