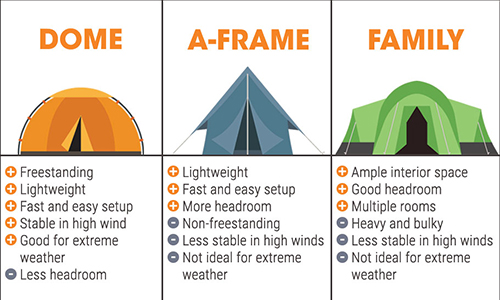 Setting up a tent is the first and the foremost thing a camper should know. Talk to 10 different people about setting up a tent and you are bound to get 10 entirely different pieces of advice. Don't try to compromise on quality for the sake of saving money (It might backfire). Spending money on tents, in all fairness, is not an expense but an investment. It is an investment that would help you enjoy numerous camping adventures with your friends and family.
If you don't want to find yourself stranded in troubled waters, here's a list of things that would come in handy while buying your first tent.
Here's What You Need to Consider
It is important for you to choose your tent wisely because your tent happens to be your 'home' while you're camping. Therefore, before buying a tent, you need to check if the tent you're buying is comfortable or not. You're bound to find a large number of tents (heavy, light, thin, small, big, etc.). A first-time camper would certainly feel a bit perplexed when he comes across a multitude of tents.
Here are a few things you can keep in mind
Don't Overspend
Different tents have different prices. You can surely find tents within your budget. Keeping all your budget constraints in mind, you need to buy the ideal tent to cater to all your needs. This goes without saying that the more you'd spend, the better your tent would be. Most importantly, don't settle for the cheapest tent.
Ascertain the Number of People That Need to Be Accommodated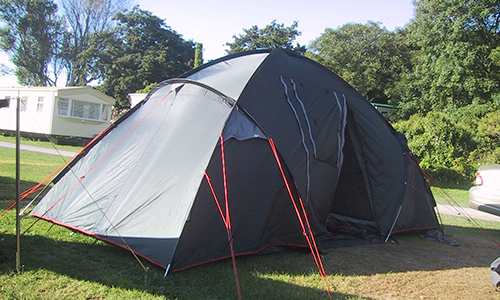 Tents come in a multitude of sizes. You need to ascertain beforehand the number of people going on the trip. If you are going for car camping, it is advisable to take the biggest tent along. Furthermore, try taking a tent that is able to accommodate more people than the actual size of your group.
Weight of the Tent Does Matter
If thru-hiking or backpacking is being undertaken, then the weight of tents needs to be taken into consideration. In such a case, an ultralight tent would make for an ideal choice. Also, you need to remember that a heavy tent is not always heavy-duty.
Keep a Close Eye on the Weather
Buy a tent keeping in mind the season you'd be camping in. Get a three season tent to enjoy camping trips throughout the year.
Check If the Tent Can Be Set up with Ease
Now, this is perhaps the most important part. Being a first-time camper, you need to learn the art of setting up a tent. Measure the amount of time taken to set up the tent. While you're camping, make sure you reach the campsite in the nick of time. This would give you enough time to set up your tent. Nothing is trickier than setting up a tent in the dark.
Is the Ventilation Intact?
You need to pay attention to this aspect while camping in warmer weather conditions. No camper wants to sit in a tent which is as hot as a glass furnace. Having doors and windows in your tent would allow the air to pass through your tent. There's a flip side to it as well. These doors and windows also allow the water to seep in when the downpour is heavy.
Furthermore, before Buying a Tent, Ask Yourself These Questions
Is the tent long-lasting
Can I stand upright in the tent?
How many doors do I need?
Is the interior storage good enough?
Is it packable or not?
Can the tent be easily set?
Are the seams sealed
Happy camping folks!