All adventure-loving people like to go for a hike every now and then. Backpacking is one way to spend time on the mountains, full of exciting exploration and that too at a very low cost. Whether it is a solo trip or you are out there with a group, you must have all your belongings with you at all times, to make sure nothing goes south while you are trying to have a great time.
When you plan hike or a trek, you also make a list of things you should stuff your bag with and carry with you for comfort. Although, in the excitement of your outing, you do not pay attention to some important things that might aid your experience and make you trip even better. Here are a few suggestions that you might like to add to your list:
Trekking Poles for Correct Posture
You don't have to be an old-aged person or a retired officer who is out on backpacking for leisure, to carry a trekking pole.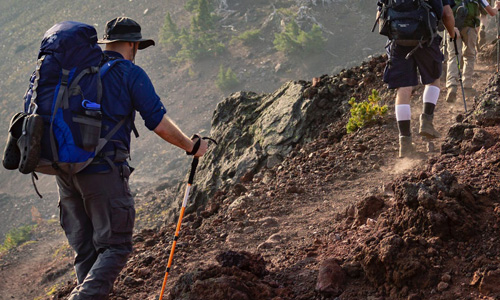 Not every person with a desire to explore the heights of the mountains can walk long distances continuously, with the same strength. Trekking poles can help you walk with the correct posture without much pressure on your legs and knees. So, now you know how you can climb mountains without feeling discomfort.
Strong and Sturdy Tent Stakes
It goes without saying that a hike is always accommodated with camping. If you have self-supported tents, then tent stakes might not seem much significant but you might want to reconsider that. You never know when it can get windy on the height you just climbed, or what if it starts raining? Essentially, tent stakes increase the durability of the tents and keep them dry from rain. So, you should have a look at your tent stakes.
Reliable Power Adaptors
You have decided the itinerary and the date of your hiking trip, and you've made a list for all the things that you might carry. Then, suddenly, you remember that your cellphone is not charged. You can't click pictures, video call someone you would want to share the trip with, you don't have a map and a GPS. Oh, what a bummer! It is always recommended to charge your phone for an extended use as well as carry a power adaptor, in case something goes wrong with the battery.
Supplementary Backpack Covers
Again, when we talk about mountains, you can check the weather all you want before heading out, but there is no guarantee of it not changing throughout your journey.
Backpack rain covers save you from such disappointments. You can either carry waterproof bags, or you can go with your regular bag with an additional. This will ensure the protection of your gear, whatever the conditions might be.
When compared with a general list of backpacking essentials, these suggestions might not appear much important, but including them in your list can surely make a significant difference. Now, what is left is to choose and select products based on your needs and use them on your next trip.