If you're planning a family camping trip away, you need to know what to bring to ensure that your experience is as good as possible!
Sleeping
Making sure that you have all of the essentials to keep you protected during the night is very important.
A tent large enough for the whole family.
Sleeping bags for each individual or double sleeping bags if you're happy to share.
A sleeping pad would provide you with an extra layer of comfort as well as improved insulation if you need it.
Food/drink
As well as having suitable gear for sleeping, you also need to have all of the correct utensils and items to ensure you can
Water is the first thing to pack, ensuring that there's enough for everyone for the whole trip.
Bringing utensils and plates, even if they're disposable, can make meal times much easier.
If you're going to cook food, you need something to start a fire. Lighters and matches are both good options.
Don't forget to bring food that's easy to cook.
You may be able to start your own fire, but bringing a stove is a good back-up option to cook your food.
Clothing
Dependant on the time of year and potential weather forecast, the clothing items that you bring can differ quite substantially. You should always prepare for multiple weather types though, just in case.
Hats/caps can protect you in various conditions, they can shield you from the sun, or the rain and help you to retain heat.
A waterproof jacket will help you to avoid being drenched by any sudden showers.
If it's cold, a down jacket and a pair of gloves or mittens will help to keep you warm.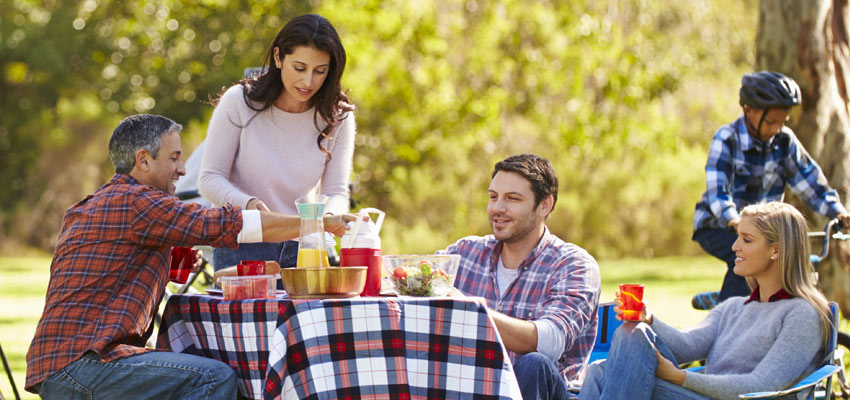 Equipment
These are advisable pieces of equipment to bring in order to keep you safe, protected as well as entertained.
You hopefully will never need to use a first aid kit, but one should be brought regardless – just in case.
As you'll be outside for long periods of time, applying some sunscreen would be very beneficial to stop you from getting burnt.
Insect repellent clothing can be purchased, but bringing insect spray is a good alternative if you do not have any clothing with the suitable features.
Camp chairs can be brought if you'd rather sit somewhere other than on the ground.
Hygiene
If you're not going away for very long, this might not have much relevance. But if you're looking for some top tips to stay clean anyway – this might help! Only a few things are really needed:
Paper towels can clean up any mess very quickly.
Wet wipes and towels can be used to clean and dry parts of your body or equipment.
For a more thorough wash, bring some biodegradable soap to wash yourself, utensils, eating equipment!
A solar camp shower can be bought and used if you want to shower. Alternatively, bagged up water can be warmed up if left in the sun for a period of time.
Entertainment
When you're on a camping holiday, there will likely be a point where you are looking to rest. To entertain yourself and the kids, here are a few items that you could bring!
Games! Bring a deck of cards or a board game. Your tablet or mobile will likely have a selection of games too, if you're not having a tech-free trip.
Books are a great way to pass the time.
Set up a hammock, which will provide you with a great way to relax.
To check out our entire range of products visit our website now where all of our items are available at discounted prices. Orders over the cost of £50 receive free shipping. If you have any questions, please do leave a comment below or message us on Facebook or Twitter!