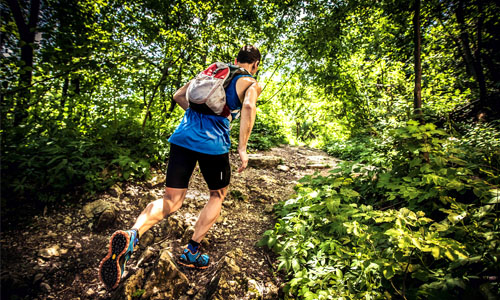 Adventure running is a solitary activity that lets you connect with the wilderness and access places that are otherwise unreachable. Trail running is one sport that has gained a lot of popularity as of late. Unlike a normal running routine, trail running lets you decide your own path. It can be both ascending and descending the mountains, challenging yourself to run on uneven surfaces and many difficult terrains with changing speed and enough safety.
However, it is important to get the technique right, as a friend, who is an expert of the same, once advised me. He said that running on forefoot has always been an ideal running technique, as more contact with the ground can lead to a lot of ankle twists and sprains. I had never known the nuances of trail running, until I met Jacob. It is because of him that I now know that trail running is a journey of knowing your strength and weakness both. You evolve as a human after a good trail running experience. It teaches you some never-known life lessons. Pushing yourself to adverse limits and testing your endurance is what I personally learnt from this popular growing sport.
Opt for Sturdy Gear
To own tough sturdy gear is a crucial factor for a successful trail. Defeating all the tough terrain on those Rocky Mountains requires a pair of durable shoes. Carrying the right equipment when on a trial is also essential. Wearing normal trainers or running shoes for a tough trail is no less than a call for death. Having a good knowledge about shoes is also important. You need a pair of lightweight, flexible, and durable shoes. The shoes may vary according to the kind of surface you are running on. For soft surfaces, choose shoes that have less cushion. For harder surfaces, vice-versa. Attaching crampons to your shoes will be best for snowy terrains. They provide better grip.
I once committed a mistake of buying some trail gear that did not have any pockets. Look for vests that have enough pockets to fit in your flasks, hydration bladder, chocolate bars, rice balls, extra clothing, sunglasses, phones etc.
If you do not wish to face the dire consequences of the weather, then prepare adequately. Be cautious with what you buy. Know your body well. While on a trail, it might rain, snow, be chilly cold, or burning hot. Buy clothes appropriate for all weather conditions. Be ready to encounter some challenging weather conditions.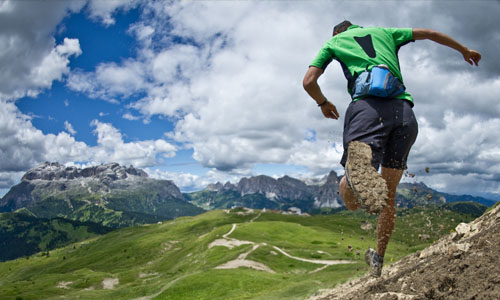 Research and Plan
As a beginner, you do not really need to look for simpler tracks. The key instead is to get the technique right. This is unusual advice but on your first attempt, don't give it 100%. Keep balancing your speed and covering the distance with enough time to be able to get comfortable with the terrain. Always take shorter strides for better lung functioning. Unexpected obstacles are sure to be encountered. Be ready to face uneven paths, twigs, spread-out tree roots, etc. and watch yourself while running downhill. Control your pace to avoid any mishap.
Enjoy while on a Trail Run
Trail runs usually uplift your mood and give you a new perspective on nature and its wilderness. Enjoying a trail run helps in achieving your target in less time and without any stress. Do not see the trail as a burden, as that might make it a little difficult to cope with the other harsh factors. Delving into the nitty-gritty of nature and its awe-inspiring beauty is one of a kind experience.
Remember not to overdo anything while on a trail run. Be comfortable in your skin and take frequent breaks. Carry plenty of fluids, food, sunglasses, sunscreen, and other essentials. Familiarize yourself with the topography and the weather conditions. Explore the picturesque views while you run through difficult surfaces. Carry chocolate bars for instant energy boost. Happy hiking!