If you think a snowy adventure is all about fun and no style think again. You do not have to leave your fashion sense at home before venturing outside. Nowadays, snow apparel is available in a wide variety. There are different options on offer at stores for your selection. When it comes to snow pants, you do not have to compromise on your fashion sense. Read on and open your eyes to a new world of fashionable pants.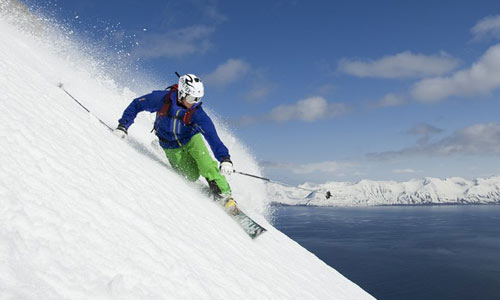 Fitted Ski Trousers
Fitted snow pants are my favourite as they hug my legs and make me look athletic. Even for skiing and snowshoeing, these pants are perfect as they do not hamper movement. Wear fitted pants when the weather is not too cold, because their fabric is not as well insulated as that of other heavy pants. If you are involved in activities that do not demand too much mobility like ice fishing or snow mobile riding, fitted snow pants are the great option. These pants regulate the body temperature by the use of ventilating zips and provide warm comfort to the wearer.
Tip: Make sure that the snow pants flare out below the knee allowing the ski and snowboard boots to fit comfortably.
Ski Bib & Brace
Snow bibs are great to wear when your snow jacket does not have a powder skirt. These pants come with suspenders and have varied lengths which sometimes are up to the waist and sometime finish at the chest. These bibs are generally warmer than the snow pants but are slightly complex to wear and take off. This is due to the fact that their layers are difficult to adjust on the top portion of the body. However, these bibs make up for their complexity by providing you with extra warmth and comfort in extreme conditions. While wearing these bibs, you can even remove your jacket during highly active sports like Nordic skiing and snowshoeing.
Tip: Compared with other snow pants, these bibs create more tension between your waist and shoulder due to the suspenders they have. Buy theses bibs only if you like this form of dressing. I advise that you try them at a trial room before purchasing.
Ski Trousers / Pants
As the name suggests, ski pants are tailor made for skiing. When buying these pants, make sure that they are wide enough below the knee so that they can fit over your ski boots. These pants come with a thin piece of waterproofing fabric or gaiters which needs to be pulled over ski boots to keep the snow out. With abrasion resistant fabric from the shin to the ankle, these pants protect themselves from hard ski boots and buckles.
Tip: While buying ski trousers, opt for one which has pockets. Especially, if you do a lot of resort skiing like me, it is a great luxury to have a place where you can keep your ski pass and other small essentials.
Whether you ski, snowboard or just frolic around in snow; pants are extremely important. Make a choice as per your need and fashion taste as the stores are filled with a wide array of products. As far as brands are concerned, I advise that you select from my favourites, which I have seen last the test of time. Marmot, Columbia and The North Face are extremely good when it comes to their snow apparel range. Take a look at our ranges from these brands and have a delightful time during your winter vacation.