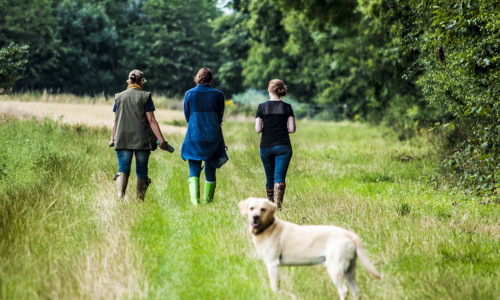 I belong to an active family. Sitting at home doing nothing over an extended holiday was never part of my DNA. But things changed when I moved over to a different location, away from my family, due to work reasons. With choked up schedule and no time to make friends, I was stuck in my 9 to 5 job. Many times I thought about going out for a hike, but had to drop the plans as I was unable to find a partner.
One fine evening, after coming home from office, I was watching Turner and Hooch. The camaraderie between the dog and Tom Hanks got me hooked, and it was then I decided to bring Ronny, my dog, into my world. He became my accomplice on morning jogs, never tiring and always following me throughout the run. That's when I got the idea to plan a hike with my Labrador. The next weekend I sat about on my journey with Ronny. He was so excited; it was palpable from his loud barks. Our first hike brought us immense pleasure and led to more hikes in the future. A lot of effort went into training Ronny before our first hike. Below I have jotted down a few tips that you can follow for an awesome hiking experience with your dog.
1. Know the Breeds
If you do not already have a dog at your home, pay special attention to the breed. Avoid short-faced dogs as they have a hard time breathing which makes them a lousy hiking partner. Bulldogs, Pugs, and Boston Terriers are not ideal for a long hike. Even taller dogs like Mastiffs, and Great Danes are not suited for hikes as they are prone to bone related problems. I am lucky to have a Labrador as my hiking partner but there are a few other breeds that are equally adept at running and hiking. Vizsla, Weimaraner, and Australian Cattle dog can be awesome partners on a hiking adventure.
2. Right Time To Run With The Puppy
It is normally advised to a dog owner that he should not take his dog for a hike till he is at least one year old. However, I started training with Sam when he was younger than one year. He was fine chasing after me at such a young age without tiring easily. I advise you to do light walking and running with a young pup when he is a few months old and gradually increase the intensity. Wasting a complete year is not required.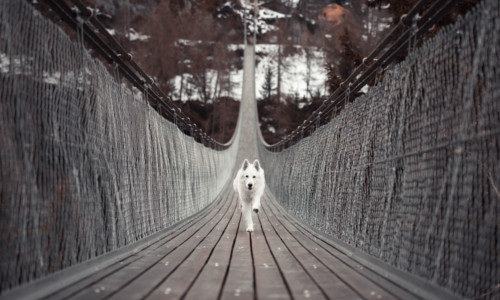 3. Leashed or Unleashed
When you are only concerned about the happiness of your dog, then unleashing him is a no-brainer. If you have a dog-friendly neighbourhood, then you can be carefree when he is unleashed. But such neighbourhoods are a rarity and hence, you should keep your dog on a leash when he walking with you in a populated area. When you head out for open spaces, you can allow your dog to run free without a leash. If somehow you are unable to train your dog to run without a leash, in that case, it is a good idea to tie the other end of the leash to your waist. This way you won't be thrown off balance by his persistent pulls.
4. Health Concerns
The biggest enemy of a dog on a hike is hot weather. Plan your training at dawns and dusks in order to reduce your dog's exposure to the sun. You should be careful running with the dog when the temperature reaches 20ºC. Anything above 25ºC and you should stop running. By restricting exposure of your dog to the energy sapping heat, you will make sure that he stays energetic and healthy throughout the hike.