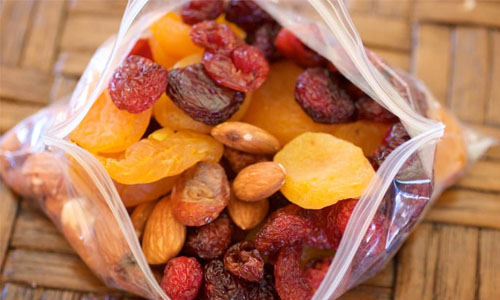 The thought of going for an outdoor adventure brings a lot of thrill and excitement. Backpacking your way through open landscapes and climbing up the toughest mountains is a stimulating experience for all the adventure freaks. The adrenaline pumping and the curiosity to explore the unknown lands keep you on your feet throughout. Be it hiking or camping, an outdoorsy sort like me is never contended, no matter how many trails I go on or how many new roads I discover, the passion to keep on going for more is never-ending, albeit a little tiring.
Dealing with lethargy can be a little tricky on such occasions. Boosting up your energy levels every now and then is indispensable when you go on for any hardcore outdoor activity. Filling up your sack with nutrition-rich cereals can be boring. An ideal hiking diet should include not just energy and calories, but also flavour and taste. After having consulted many of my hiker friends I have put up together a list of delicious and nutritious snacks to keep you alive all-day long. Peruse through the below list to add more variety to your must-have food list.
Crack Some Nuts
Hiking can be tiring and when it is a heavy bag pack that you have along, it gets even more difficult. Looking for food items that can cut down on the weight, is the right thing to do. Nuts in any form are not just full of nutrition and healthy fat, but these are also easy to transport. A healthy plant-based diet, nuts are a source of vitamins, proteins, minerals, dietary fibre, and monounsaturated and polyunsaturated fats. In short, nuts can be considered a wholesome meal.
Fruits and Veggies
Compliment your outdoor fun with some juicy snacks. Fruits like apples, citrus fruits, grapefruit, bananas, etc. are the best source of vitamins and minerals. You can even carry some dried fruits like cranberries, apricots, raisins, etc. Apart from carrying fruits, you can pack some light veggie snacks like baby carrots, celery sticks or for that matter vegetable rolls can add taste to your baggage of nutritious food.
Crunchy Energy Bars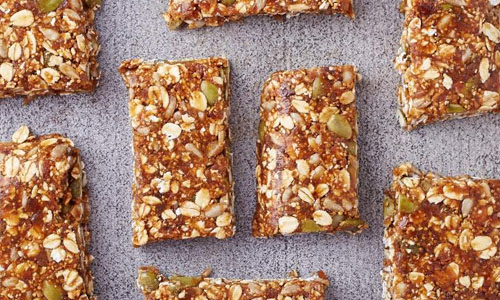 Crisp-tasting energy bars can be tasty and fulfilling when you are out on a trail. However, choosing homemade bars is after healthier than going for packed bars. Packed bars might boost up your energy levels instantly due to the high amount of sugar level in time, but it is not long that you feel tired yet again. Increasing healthy fats and proteins instead of sugar is possible when you try your hand at making homemade bars. Also, there is always room for experiment. You can add granola, peanut butter, hazelnuts, walnuts, etc. to add a taste of your choice.
Oatmeal and Seeds
Oatmeal is said to be the queen of all. Full of complex carbs, proteins, and fats, this gluten-free option is a rich source of vitamins (B1, B5, and folate). Oats not only help lower blood sugar levels, but are also an appetite suppressor. You can mix your oats with some long-lasting energy providing seeds. Right from pumpkin seeds, sunflower seeds, sesame, to chia, all taste great when mixed with oats.
Chickpeas
Looking for a blend of crunch and spice? You do not have to go any farther when you have with you a packet of roasted chickpeas. Seasoning them right with a bit of salt, olive oil, herbs enhance their taste. These stay crispy if stored in a zip lock or any resealable bag.
Stashing all these snacks for your upcoming hike can help you reach new peaks without affecting your athletic body. Above mentioned, organic and homemade alternatives will keep you healthy and high on energy throughout the trip! Stack up small zip lock bags of your food items in one container can help you manage the snacks.