Camping and hiking with kids and small children might seem like a stressful job. But it is a pretty simple thing and the key to their comfortable and happy camping lies in the right kind of clothing. When the weather changes quickly, it is important to carry the right clothing to help your child experience comfortable outdoors.
For a successful outdoor experience, here are a few essential tips you need to keep in mind especially when you are camping with kids.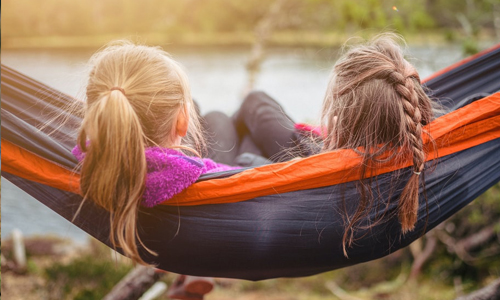 Fabrics for Kids' Clothing
Cotton clothing for a casual outing during the summer months is ideal but, for much colder temperatures, woollen or synthetic fabric is the best choice. These materials dry quickly by wicking moisture, keeping your child comfortable in the sub-zero temperature.
Wool usually is an itchy fabric, but the clothes designed with wool for cold temperature are soft, smooth, and ultra-fine merino wool is odour-repellent, breathable, and itch-free to keep your kids comfortable and warm.
Layering Up Your Kids
As much as it is important for the adults, the same goes for the kids as well - layering strategy can adapt to any weather change so that you add or shed some as and when required.
For the base layer of your kid's clothing, use underwear that wicks sweat off of the skin. It is ideal to use wool or synthetic fabric to keep them warm and keeps the skin dry at the same time.
The middle layer is about insulation or retaining warmth in the body for protection against the cold. Use puffy insulated jackets or fleece jackets as your middle layer. The puffier or thicker your middle layer is, the more warmth it gives.
Outer layer is all about shield against natural elements like snow, rain, and wind. The outer layer is important to provide defence against the natural elements from reaching the middle and base layers. If the rain or snow reaches the middle or base layer, your kid can get seriously ill. So, a breathable outer cover will keep your child be active and comfortable for a longer time.
Be sure that you are dressing up your kid for outdoor adventure and for babies who do not move around much, as they cannot generate much heat. Consider their needs separately when you are camping with them.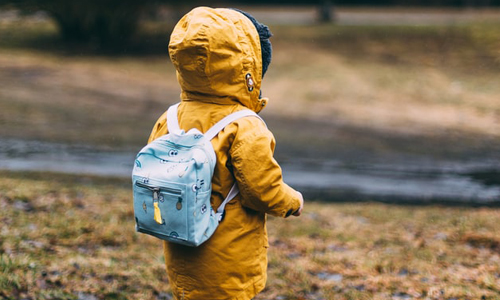 Find the Right Fit
To ensure that your kid walks, runs, climbs, and jumps comfortably, it is important to find the right fit for them. Ill-fitted clothes are not only uncomfortable, but can also prove to be dangerous. You will not like your little one to trip and fall from pants that are too long for him. Find clothes that are according to the size chart for the kids. It is good to start with the age but depending solely on that can be misleading. So, you should also consider brand specific size for your child.
Footwear and Accessories
For hiking and camping, your child will not require a boot, and a sneaker will work just fine. However, you would like to bring a few extra pairs of socks to change when needed. A pair of snow boots can also do the trick to keep your child's feet warm when the temperature hits below than expected.
Other than this, do not forget to carry scarves, mittens, and gloves to take care of the extremities when you are camping with your kids.