Earlier this year, my family and I visited Snowdonia. It wasn't a walking weekend - we were there to surf and explore slate mines and eat lobscows and the best pizza ever - but we did stop off at Llyn Ogwen and venture a little way longingly onto Glyderau despite the rain and low visibility. We saw some walkers coming down off the mountain as the rain really kicked in and they were absolutely sodden to the skin. I remember really clearly looking at the way their long trousers were just flapping wetly about their shins and I knew then that I would so hate that if it happened to me. I'd rather zip the length off and have bare legs.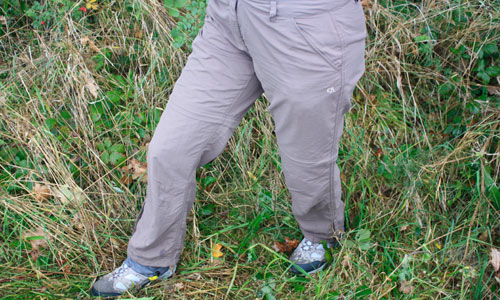 Here's a confession, too, while we're at it. I've managed to put off buying proper walking trousers for a long time. I'm wedded to my denim, thick or thin. Next year I plan a gradual weaning off jeans and into tunic and leggings, just for a change. But denim is no good for walking in the wet, and even on a dry day, the long grass and undergrowth stays deceptively soggy for a lot longer than my carefree planning could contemplate. I may not like trousers that aren't denim, but I hate wearing wet denim much more than that.
So, with this in mind, my pick of trousers was the Craghoppers Womens/Ladies NosiLife Zip-Off Walking Trousers.
Comfort
I was super conscious of the small ridge that runs around the leg where the zip is, for about half an hour. And then I forgot it was there - so that was fine. The trousers are very, very light. There are plenty of pockets, including one on the leg with a proper drypocket sealable pouch inside, which was a lovely touch.
The super test of course was whether I could convert trousers to shorts and back again without taking off my boots and low cut gaiters. The answer was yes, I could!
Some things to watch out for:
When taking off the legs, I found it necessary to also unzip the ankle zip, and worked best when I scrunched the fabric up tight in my hands to get it off.
When putting them back on - the legs are not interchangeable. The left leg has a little contrast stitching on it, just below where you start to unzip it. This is a great aid once you know what you're doing!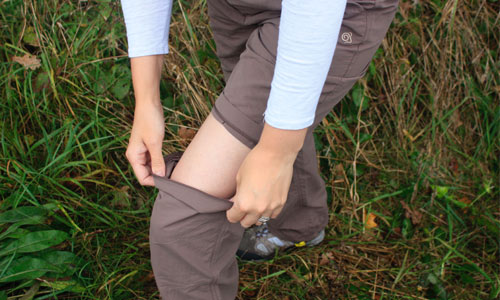 The legs did not get too muddy either, so I was super happy.
The fabric dries fast, and is UV protectant and insect deterring. I like these trousers, dare I say it, as much as I like my denim.
Sizing
I took some time with the size guide for these. I have friends and family who wear, and love, Craghoppers - but they do say that some variants can vary a bit on the fit to size. I ended up ordering a size 14 in these Nosilife even though I'm normally a 12 by label size, and I'm glad that I did because they are a perfect fit on me. Do check the size guide before you order and all should be well.
What worked well
I could get the legs off even in my boots and gaiters, without getting everything too muddy. Once the legs were off, I was actually complimented on what a nice cut the shorts were on me!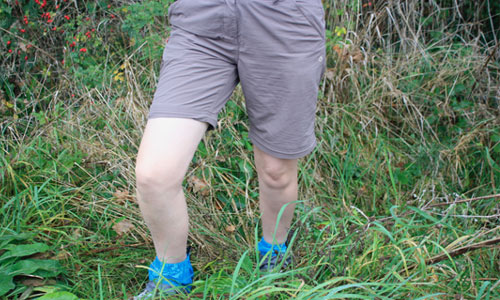 What could have been better
Getting the legs off over my boots was a bit snug. Maybe a little longer on the ankle zip, or a little wider in the leg, would have worked better. Putting the legs back on afterwards was a fiddle, but still very achievable in the field.
What I like best
The overall aesthetic. They look good, feel good and work well.
Stars (out of 5)
4 - getting the legs off over my boots was snug.
Technical
Drying loops. Dry bag.
Heel tape. 5 pockets: including 3 zipped.
Fixed waist. Ankle Zips.
Knee darts.
Nosilife Trousers are a brilliant travel choice - lightweight and with lots of on-board storage for travel essentials. Permanently sun-protective and insect repellent, these practice travel trousers also go from wet to dry in the blink of an eye. Which means they are as easy to pack, as they are to wear.