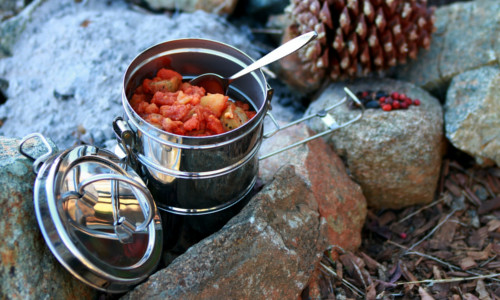 Every camper is different. Some do it for getting close to the nature, some for thrills and frills, and others for getting out of their comfort zone. I am a camper and just like others have my own reasons. I camp for the pleasure of cooking. Well, if you can't get your head around my fascination and cannot link camping and cooking together, don't worry, I have the answer for you. You see, I was never a very good cook. Whenever I cooked food at my place, I was inundated with criticism. But when I cooked for my extended family on a camping trip I was showered with plaudits like never before. I could not quite fathom the reason for everyone going delirious over my cooking, but guessed it could have been the sheer paucity of edible stuff which could have brought out that reaction from them. Once praised never shy, I took it upon myself to get better at cooking. From that moment onwards, I have been going out to camping trips armed with supplies which would bring even "Masterchef" organizers to shame. Through my sheer experience, I have formulated two different lists of cooking supplies (not Masterchef-esque) along with one extra cupboard item list for all your camping needs.
Basic Essentials
For preparing basic meals, this is my go-to setup. In case, you are going camping for a shorter duration, this setup will work just fine. Here is my setup:
Kettle
Mug
Washing up supplies
Gas burner
Spare Butane gas canister
Mess tin(s)
Cutlery
With this setup at your disposal, you will be able to cook fast food items like noodles and boil eggs. This setup is ideal for a group of friends who just want to satisfy their basic hunger needs.
Full Meal Setup for a Family Trip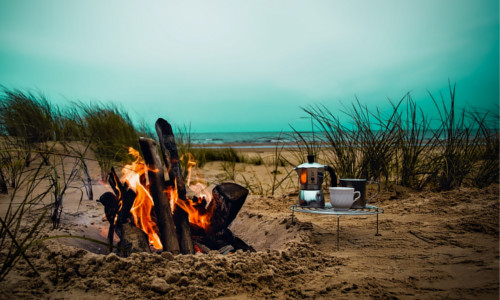 In case you are not a fan of cup noodles and boiled eggs and want to cook full meals for your family, below mentioned setup will be perfect for you.
Frying pan
Chopping board
Mugs, drinking tumblers and wine glasses (plastic)
Camp table & chairs
Saucepan
Spatula/stirring/serving spoon
Colander
Mixing/salad bowl
Bowls & plates
Chopping knife
Kitchen storage unit
Washing up supplies
Kettle
Tongs
Carving knife
Cutlery
Gas stove
Spare gas bottle(s)
Scissors
Water carrier
This is my favorite and most used setup. Armed with this setup, you can possibly cook any recipe in any recipe book. Make sure that you take this setup with you only when you have willing volunteers ready to clean up after a cooking session. Not to name names, but I have been stuck with people who have eaten the food, praised me, and then left me alone to do the dishes. I can tell you from my experience; it is not pleasant at all.
Extras
You need some extras for creating and dishing out your meals. Have a look at the list below:
Long life milk
Assorted spices
Salt & pepper
Plastic storage boxes
Bin bags
Tea, coffee and hot chocolate
Tin opener
Tin foil/cling film/food storage bags
Kitchen roll
Condiments
Pro Tip:
Never cook inside your tent, as it is a massive fire hazard! Bringing along a carbon monoxide alarm is also advisable, just in case.