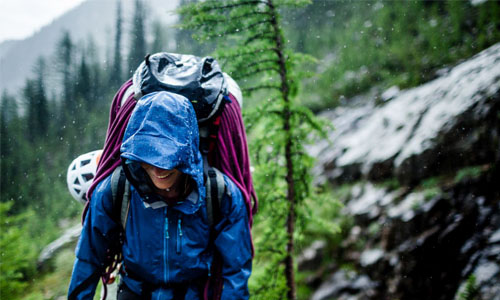 I still remember the day that I backpacked and hiked for the first time. Since then I've been trying to get as many friends of mine as possible to come out with me for hiking and backpacking. But I came to realise that this is not as easy as it sounds. The last thing you want is to bring your reluctant friend out on the trail, only for a bad experience to put them off hiking for life. So before you take that cousin of yours out on a hike, remember to keep these things in mind.
Check the weather!
This is where I went wrong: after weeks of trying to convince my brother to join me for a local hike on a weekend, I finally dragged him out but forgot to check the weather forecast for that day! After he slipped in the mud and fell face first into a filthy puddle, the look he gave me was enough for me to know that he would never go hiking again in his life. Save you and your co-hiker from a painful experience by making sure that the weather is clear and the day will be a good one - or else they may be put off forever!
Not everything important
Your friend is probably already uncertain enough about this whole hiking thing, without being handed a 70 L backpack full of extraneous gadgets of which they have no understanding or need. Be a smart mentor and remember to provide them with everything that is important, without bogging them down with dozens of tools. If they're gripped by the trail, chances are they'll grow to be quite a hiking sport, and build up their own collection of gear with time.
Curb your enthusiasm
Everyone is afraid of encountering dangerous wild animals on their first hike - I know I was. You shouldn't even think about crossing paths with any kind of wild animal if you're accompanying a first-time hiker. It's scary, and it's disturbing enough to keep anyone away from the woods for a long time.
No steep inclines
Even though I love trekking up to the top of a challenging peak, I think a first-time hiker would be understandably peeved were I to take them out for what I described as a light bit of trail-walking, only to pull up at the base of Mount Everest and hand them an oxygen tank. It's best to start somewhere flat and slowly work them up to some more challenging routes which would make your friend sweat a little.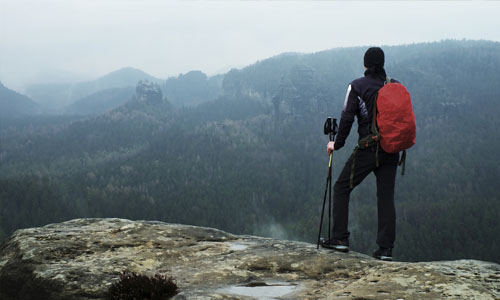 Don't aim too high
Things are bound to be difficult when someone treks for the first time, and their natural fears inevitably start to creep up. If you know your friend is afraid of heights, for example, you might be tempted to take them out on a high-altitude trail to try to help them "conquer" their fears. Don't do this on their first time out! Coaching your friend to overcome their fears and to fight against them is a noble pursuit, but save it for later, or they might not want to come out again.
Be prepared to deal with their unpleasant side
The first time I went out into the woods, my mentors always kept up with me and never gave up on me. They were patient enough to listen to my complaints about things and to help me out. If they had not been so patient with me, then I would never have grown up hiking and camping around so much. It's almost guaranteed that at some point during your trip, your newly-recruited trail partner will grow tired of their aching feet, and they may take their frustrations out on you. You must be prepared to face these episodes with a smile and a helping hand - encourage them and help them to focus on the lighter sides of the experience.
Remember, just like it wasn't a walk in the park for us to hike for the first time, it isn't going to be easy for them either. Keeping these things in mind will help you to help them, and to make sure that they enjoy their first time hiking out on the trails.