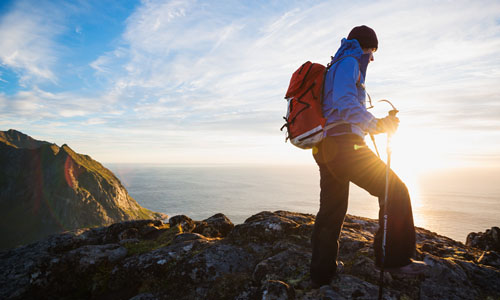 One of the major concerns while planning any adventure outing or a vacation with your friends and family is the kind of clothes that you should be throwing into your luggage bags. Be it a hiking trail, trekking in the hills, paragliding, diving, or simply strolling on the mean streets, you need to dress appropriately for the situation. Wearing the right hiking clothes, along with other basic necessities, has always been a top task for all the sports enthusiasts.
The right blend of comfort and style along with the safety element has been a major factor while selecting the right clothes and camping gears. A few crucial factors that need to be taken care of while stuffing your rucksack bag for your hiking pursuit are as follows:
Water-proof
You can never really predict what nature has to offer you, especially when you are on a hiking trail. The conditions can vary and can be hazardous at times. Be prepared for unpredictable weather conditions hitting you at any time during the hike. For this, be careful while choosing clothes. Look for gear that is comfortable and secures you from the wet and rainy days. Water-resistant tops and shirts, good hiking pants that have the capability of not getting completely soaked, and jackets that are rain-proof, are essential. Never pick-up your denims for travelling.
Safety from harmful UV rays
Protection from harsh sun rays is something I have realised is of the utmost importance. Sun damage to the skin can cause the risk of many diseases like skin cancer, premature aging, etc. A fully covered body is ideal during the trails. Long-sleeved shirts with a high neckline or collar can shield your body from the harmful rays of the sun. Opt for long pants and a pair of close fitting wraparound sunglasses. Tight knit fabrics prevent the UV rays from creeping in. Light, sheer silk gauze does not provide good UV protection. Polyester, lycra, nylon, and acrylic are more protective than bleached cottons. Covering up is the trick!
Breathable and comfortable clothes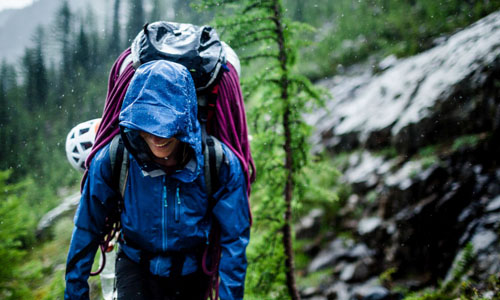 Opt for clothes that provide better insulation and are breathable. Comfort is a big game changer. When you are not at ease, you usually end up committing mistakes that cannot be corrected. People have a habit of picking up their jeans for all kinds of travel. But, believe me, in no time you will regret your decision. Carrying a pair of jeans for a trek or a hiking trail is the worst idea. You can never engage freely in any kind of sports activity when you are restricted because of your clothes. Long shorts that do not clinch your waist, and stretchy pants that provide you enough room for bending as you climb the rocky terrains, are a savior.
Another important factor while considering clothing is the fabric type. There is nothing worse than feeling as if you are being smothered. Moisture-wick fabrics are appropriate for all kinds of sweat-inducing activities. I have had a pleasant experience wearing one of these on a hiking trail. You perspire a lot during hikes, and when the sun sets down, the cotton fabric clothes usually hold the moisture and can make you feel really cold when the temperature drops. Nowadays, there are full ranges of sportswear clothing that have moisture-wicking qualities and are breathable and comfortable for likewise activities.
Convertible features
Always keep convertible hiking clothes handy. A pair of zip-off convertible pants and long-sleeve shirts with loops and buttons saves you from packing an extra pair of clothing. Thus, saving you from unnecessary expenses. These special outfits are ideal for dramatic weather conditions, when there is extreme humidity during one point of the day and it rains in the latter half.
Abrasion free
Invest in outfits that are made from a durable fabric and are resistant to abrasions. There are special hiking pants and button-up shirts that provide good comfort along with being abrasion free. Avoid using your yoga pants and running tops. Stop being a miser when it comes to buying hiking gears and outfits. Ditch those yoga pants and purchase an all new outfit for yourself. Remember, prevention is better than cure!